News Center > New substation, distribution circuits being constructed in Ouachita Parish
For Immediate Release
New substation, distribution circuits being constructed in Ouachita Parish
02/09/2022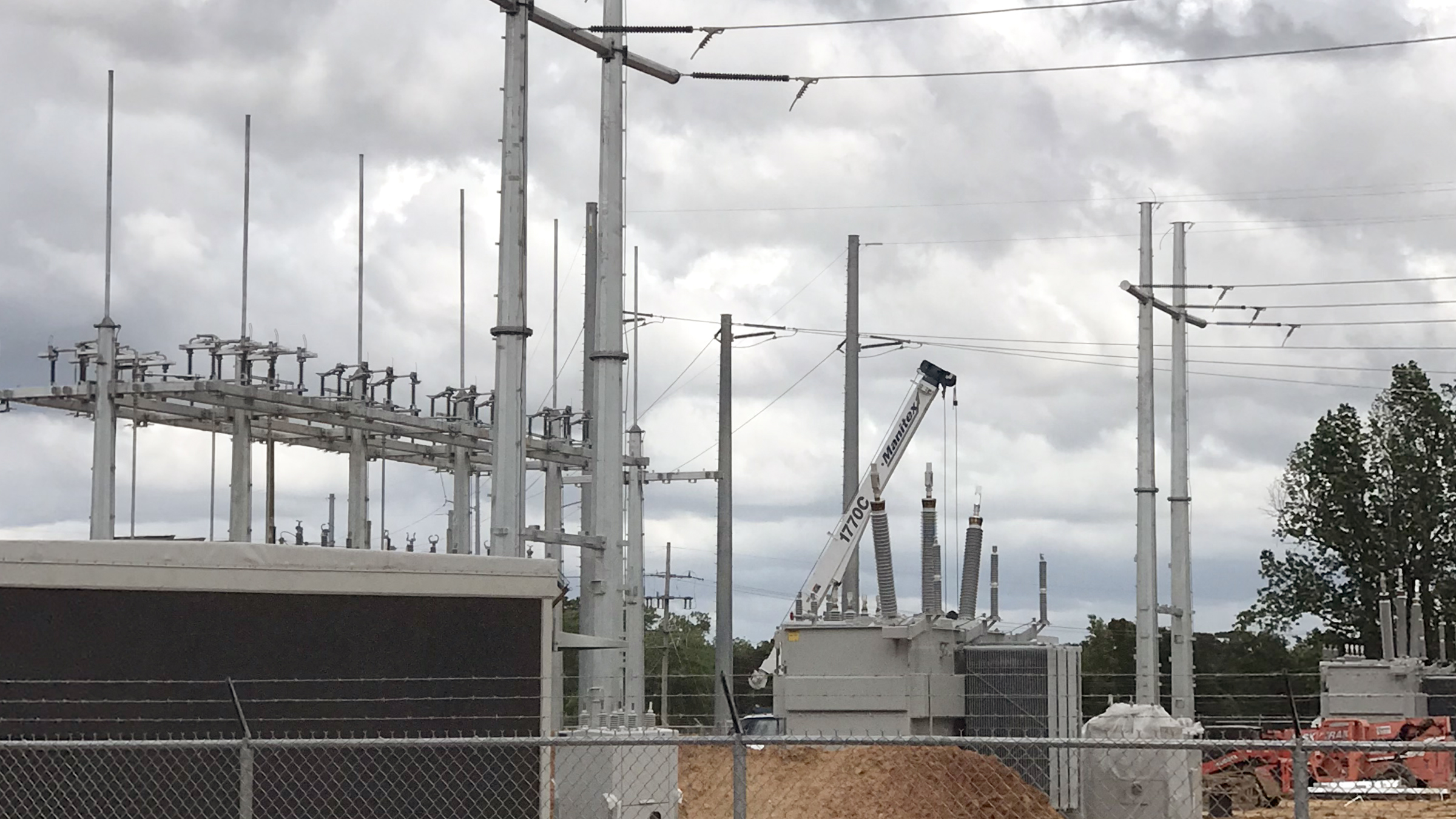 New and upgraded equipment will increase electric capacity and improve service reliability
WEST MONROE, La. – Entergy Louisiana is constructing a new substation and distribution circuits in Ouachita Parish as part of its commitment to increasing the resilience of the electric system and providing customers with reliable power. The approximately $19 million project will benefit around 3,000 customers south of West Monroe.
Utility crews expect to complete the project and energize the Cotton substation and new powerlines sometime this summer, pending any unforeseen circumstances. Crews will be setting new poles in the ground and installing nearly 10 miles of new wire and other electric equipment in the air as part of the construction of six distribution circuits that will provide electricity from the substation to area homes and businesses.
The new equipment just north of Lapine and the surrounding area will support economic growth and help provide reliable power year-round to customers in Ouachita Parish, in part, by increasing electric capacity and reducing stress on other substations in the West Monroe and Calhoun areas. In addition to the Cotton substation boasting two transformers, several reclosers are being installed onto the electric system to incorporate automation and create self-healing networks.
Reclosers are smart devices that sectionalize the electric system to prevent power outages while also helping protect it from damage. These devices give the electric system an opportunity to keep power flowing following temporary impacts like a tree limb falling onto a power line or an animal contacting equipment.
Most of the remaining work related to the Cotton substation project will take place along LA-34 between LA-3033 and LA-557. Entergy Louisiana is asking that motorists exercise caution if they encounter a utility crew working beside a roadway. Traffic will be directed safely around any work sites where necessary.
"We strive to prevent power outages before they occur, and the Cotton substation project is just another example of our commitment to doing just that," said Roderick Worthy, Entergy Louisiana customer service manager. "We're excited about these upgrades being made in Ouachita Parish and are confident it'll help support economic growth in the area."
Maintaining and improving the electric system is an ongoing process. Entergy Louisiana's reliability experts routinely inspect and evaluate components such as poles, powerlines and transformers and use data to make strategic decisions around the replacement or enhancement of equipment. To learn more about our reliability efforts, visit the Entergy Newsroom.
About Entergy Louisiana
Entergy Louisiana, LLC provides electric service to more than 1 million customers in 58 parishes and natural gas service to more than 94,000 customers in Baton Rouge, Louisiana. Entergy Louisiana is a subsidiary of Entergy Corporation, an integrated energy company engaged in electric power production, transmission and retail distribution operations. Entergy delivers electricity to 3 million utility customers in Arkansas, Louisiana, Mississippi and Texas. Entergy owns and operates one of the cleanest large-scale U.S. power generating fleets with approximately 30,000 megawatts of electric generating capacity, including 7,000 megawatts of nuclear power. Headquartered in New Orleans, Louisiana, Entergy has annual revenues of $10 billion and approximately 12,500 employees.
---