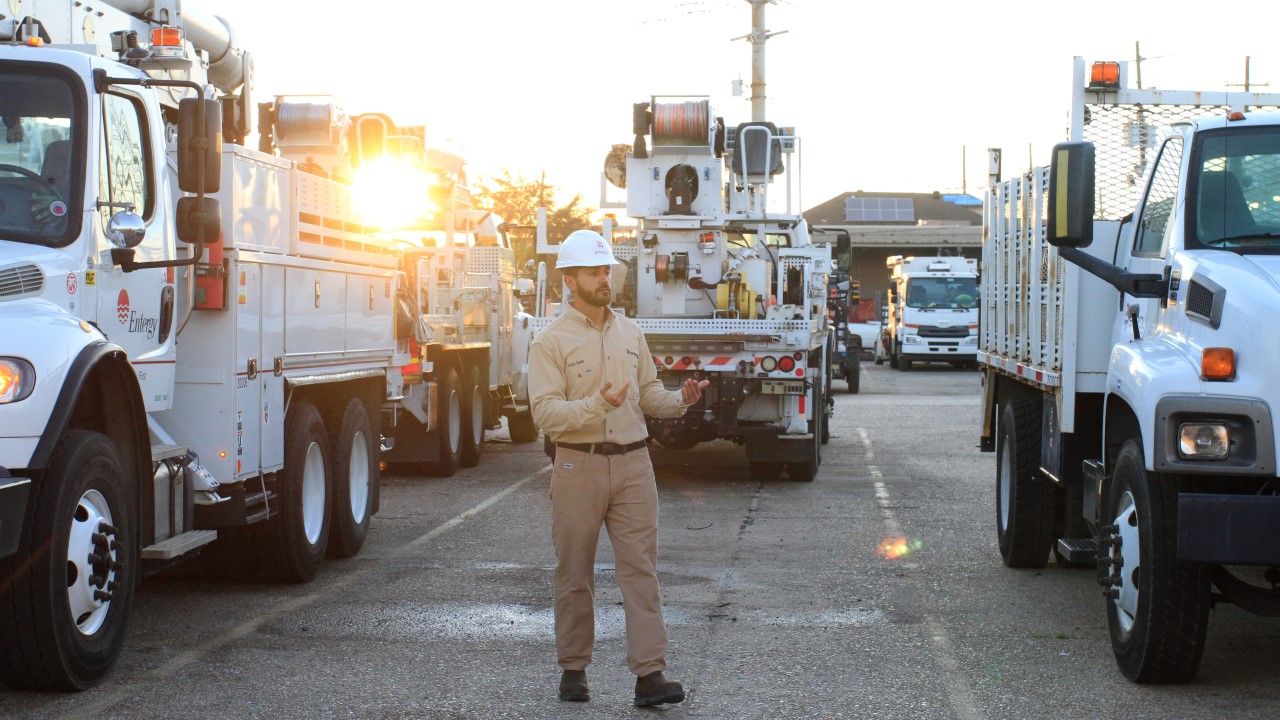 Operation: Storm Ready
We've learned to be ready for anything
And, we stand storm ready
Severe weather is impacting our region with increased strength and frequency. And we are adapting, grid resilience is not only the strength of the system, but also characterizes how quickly we recover and restore power following severe weather.
As a storm approaches, we ramp up support
We are prepared to get your lights back on safely and as quickly as possible when severe weather strikes. We rely on our continuous planning, preparation and training. Our teams have a proven plan of continuous preparation, planning and training. As severe weather threatens, we monitor, mobilize and act. Most important is the safety of those living and working in communities hit by big storms or severe weather.
Mutual assistance: Entergy partners with other utilities in mutual assistance agreements, in preparation of restoring widespread outages from severe weather. Mutual assistance companies meet annually to strengthen their partnership. Entergy participates in four different mutual assistance organizations. As of April 2023, Edison Electric Institute has awarded our company 44 Emergency Response Awards for our restoration and mutual-assistance work. Learn more about our mutual assistance agreements.
Resources and logistics: Local infrastructure may not be intact following a major storm and storm-affected area can't always accommodate an influx of thousands of restoration workers. Hotels, restaurants and fuel for vehicles may not be available, for example. We set up staging sites, or base camps, that provide lodging, dining and sanitary facilities for workers in the field, as well as vehicle maintenance and supply depots. The sites are usually set up within 24 hours of the weather event.
Response teams: For our response we secure and mobilize our crews, contractors and mutual assistance partners. Contractors must be vetted for safety, licensing, and skill. And we pay careful attention to the costs of mobilizing as many workers as needed, to minimize financial impact on customers.
Storm support staff: Line and vegetation crews may be the most visible part of the restoration, but many other employees are working behind the scenes, too. Workers from all areas of Entergy work at many critical locations including staging sites, dispatch centers, customer service centers and material supply sites. They provide the support needed to keep the restoration moving. Learn more about our restoration support.
Storm ready: Monitoring weather threats is a 24/7, 365-day-a-year job
Entergy is a recognized leader in storm response. We know that weather impacting our region is increasing in strength and occurring with greater frequency.
When a weather threat is confirmed, we use weather forecasts and computer models based on knowledge from past storms to predict an estimated duration and number of outages that could occur. We follow a very detailed, rehearsed plan that has worked well for us during storm recovery. Every storm is unique, so while plans are rehearsed and in place, we also adapt to ever-changing conditions brought by Mother Nature.
Inspections: We look at outage statistics and work to improve parts of the grid that may have experienced more frequent outages. Infrared cameras and drones inspect power lines and look for "hotspots" and other areas that might be likely to fail. Annually inspect utility poles and replace damaged or broken poles when necessary. Transmission lines and facilities, along with our plants, are inspected in preparation for extreme weather conditions.
Maintenance: We take a data-driven approach to identify where to make improvements that will yield benefits for customers. As we identify areas to upgrade equipment, we're replacing outdated equipment with more reliable and modern infrastructure. For example, we target areas where customers have frequent or repetitive issues. And, we routinely see improvements on these areas after the work is complete.
Vegetation: Our "Sky to ground" vegetation trimming process removes tree limbs that would normally have been above the power line and outside our standard trimming scope. Satellite imagery and computer modeling are used to help predict when trimming may be needed. Annual clearing of right-of-way areas minimizes the impact from fallen trees or branches following a storm. And pre-storm patrols of power lines, equipment and circuits help mitigate any imminent threats within the right of way. Learn more about our tree trimming activities.
Industry collaboration: Neighbors helping neighbors: Mutual assistance companies meet annually to strengthen their partnership. Entergy participates in four different mutual assistance organizations. For example, following Hurricane Ian Entergy sent hundreds of linemen from Louisiana, Arkansas and Mississippi to help restore power to neighboring communities in Florida, just as workers from neighboring utilities in other states have helped us get the power back on in the past. Learn more about our mutual assistance agreements.
Training: Annual readiness drills and training, such as computer-based and event tabletops are conducted to promote and test awareness. Lessons learned are conducted following each major storm, with associated actions taken across the company.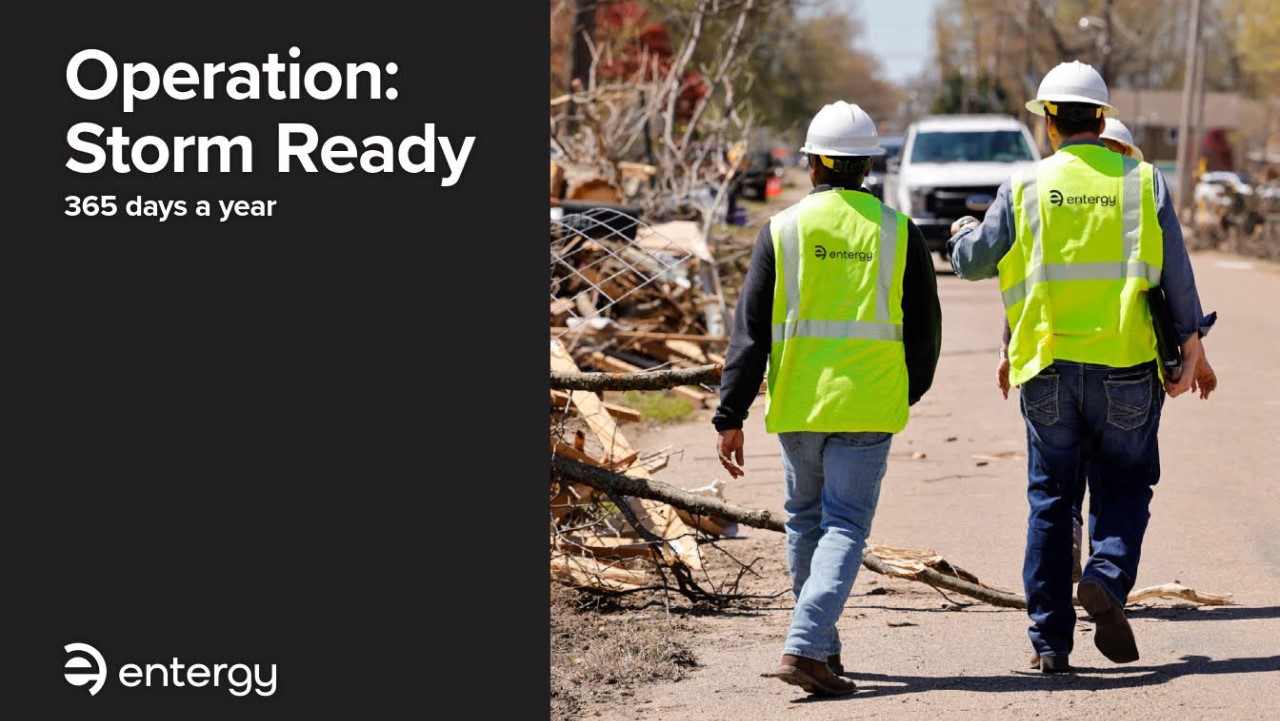 View a PDF of Operation: Storm Ready
Preparacion Para Tormentas (PDF)  |  CHỐNG GIÓ BÃO (PDF)
Call 1-800-9OUTAGE (1-800-968-8243) to report downed power lines