News Release > Grand Gulf Nuclear employees donate winnings to Wounded Warriors
For Immediate Release
Grand Gulf Nuclear employees donate winnings to Wounded Warriors
07/13/2023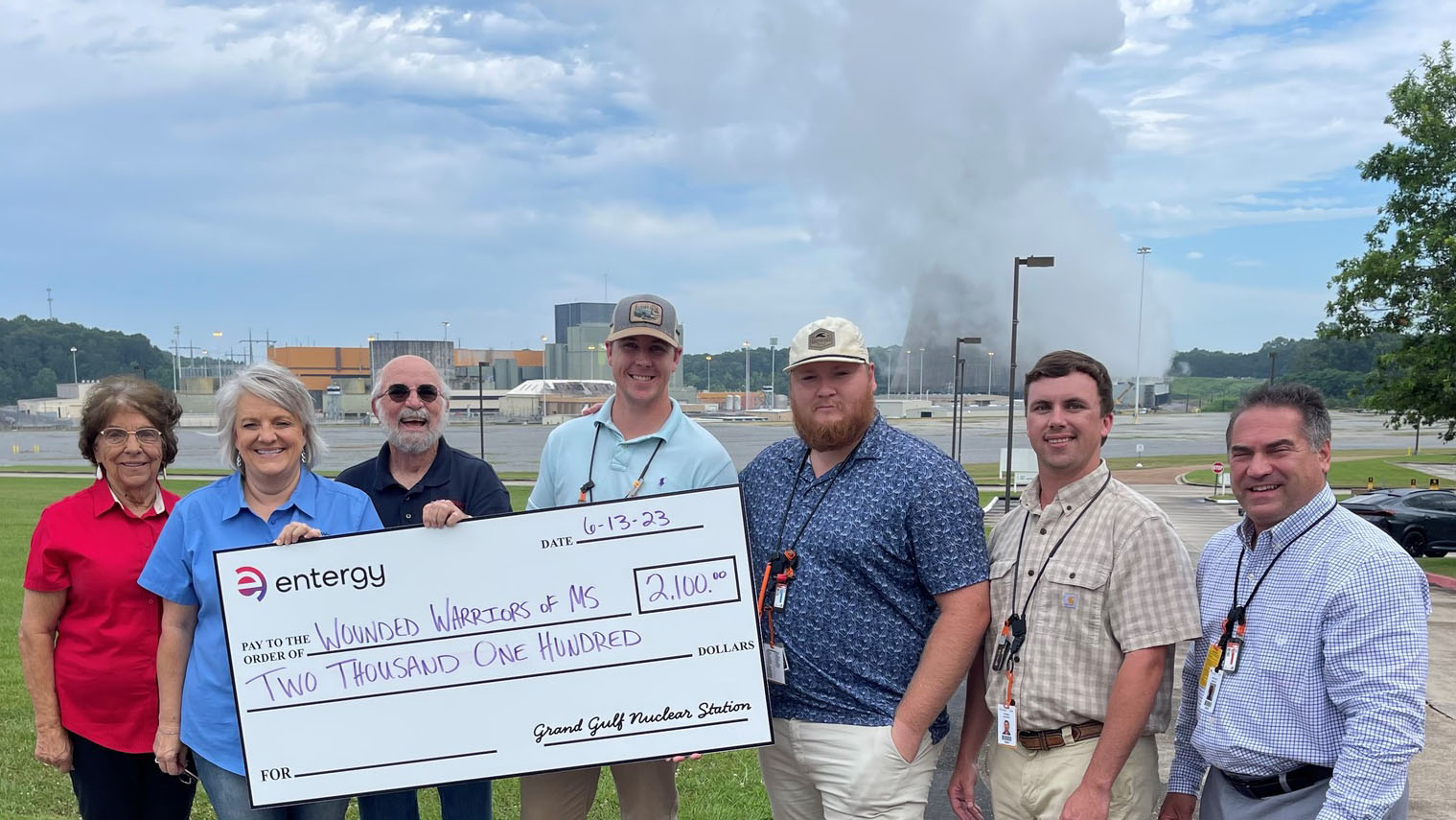 Golf tournament winners choose Brandon-based organization to receive $2,100 prize
PORT GIBSON, Miss. – Grand Gulf Nuclear Station engineers won big at a recent team-building charity golf tournament, but it was Wounded Warriors of Mississippi that took home the prize.
The tournament, held at Clear Creek Golf Course in Vicksburg, was a great exercise in collaboration, but also an opportunity to donate to an organization of the winning team's choice.
"Wounded Warriors was an easy pick for us," said Trace Moore, Grand Gulf engineer. "My granddad served in Vietnam, and I would hear stories of how hard it was on veterans when they came back to the United States."
Along with Moore, the winning team included Grand Gulf engineers Gabe Bufkin, Jeremy Smith and Zachary Thorne.
Cheryl Bruce, director of Wounded Warriors of Mississippi, began the 501(c) (3) nonprofit organization based out of Brandon nine years ago. When her son returned home after receiving injuries during his tour in Iraq, he was looking for the same camaraderie he experienced overseas. Through Bruce's efforts, not only did her son make connections, but she has also been able to help connect many other Mississippi veterans.
"We were thrilled when we found out about the donation," Bruce said. "We don't write grants or have any major sponsors, so we operate solely on donations. It was very humbling that they chose us with no direct connections to our organization. We are so honored."
Bruce began the program when she realized the national Wounded Warriors Project did not have the funds to help the veterans she met locally through her son.
"If veterans have home repairs or bills or groceries they can't afford, we help them," Bruce said. "We help with physical problems, too. Since the wait for an appointment at the VA can be more than eight or nine months, we pay for bills out of pocket when a veteran is in pain or uncomfortable. We also provide counseling, whether it's marriage counseling or for PTSD."
There were two flights of the golf tournament, meaning the second winning team chose a separate organization to donate to. Because their choice, the Salvation Army Angel Tree program, mainly operates around the holiday season, their check presentation will be at a later date.
"It was great to be able to combine a fun, team-building activity with a chance to donate to causes the individual teams chose," said Brad Kapellas, Grand Gulf Nuclear Station site vice president. "I'm so proud of the employees at Grand Gulf and their continuous generosity."
To stay updated about Wounded Warriors of Mississippi, follow their Facebook page. For donations or inquiries, contact Cheryl Bruce at wwofms@yahoo.com.
About Entergy
Entergy Nuclear, headquartered in Jackson, Mississippi, is a subsidiary of Entergy Corporation. Entergy Nuclear owns, operates and supports a fleet of five reactors in four locations, generating enough clean, carbon-free electricity to power millions of homes. Entergy (NYSE: ETR) is a Fortune 500 company that powers life for 3 million customers through our operating companies in Arkansas, Louisiana, Mississippi and Texas. We're investing in the reliability and resilience of the energy system while helping our region transition to cleaner, more efficient energy solutions. With roots in our communities for more than 100 years, Entergy is a nationally recognized leader in sustainability and corporate citizenship. Since 2018, we have delivered more than $100 million in economic benefits each year to local communities through philanthropy, volunteerism and advocacy. Entergy is headquartered in New Orleans, Louisiana, and has approximately 12,000 employees. Learn more at entergy.com and follow @Entergy on social media. #WePowerLife
---