News Release > Entergy Texas recognizes Memorial Hermann The Woodlands for energy efficient upgrades
For Immediate Release
Entergy Texas recognizes Memorial Hermann The Woodlands for energy efficient upgrades
08/22/2022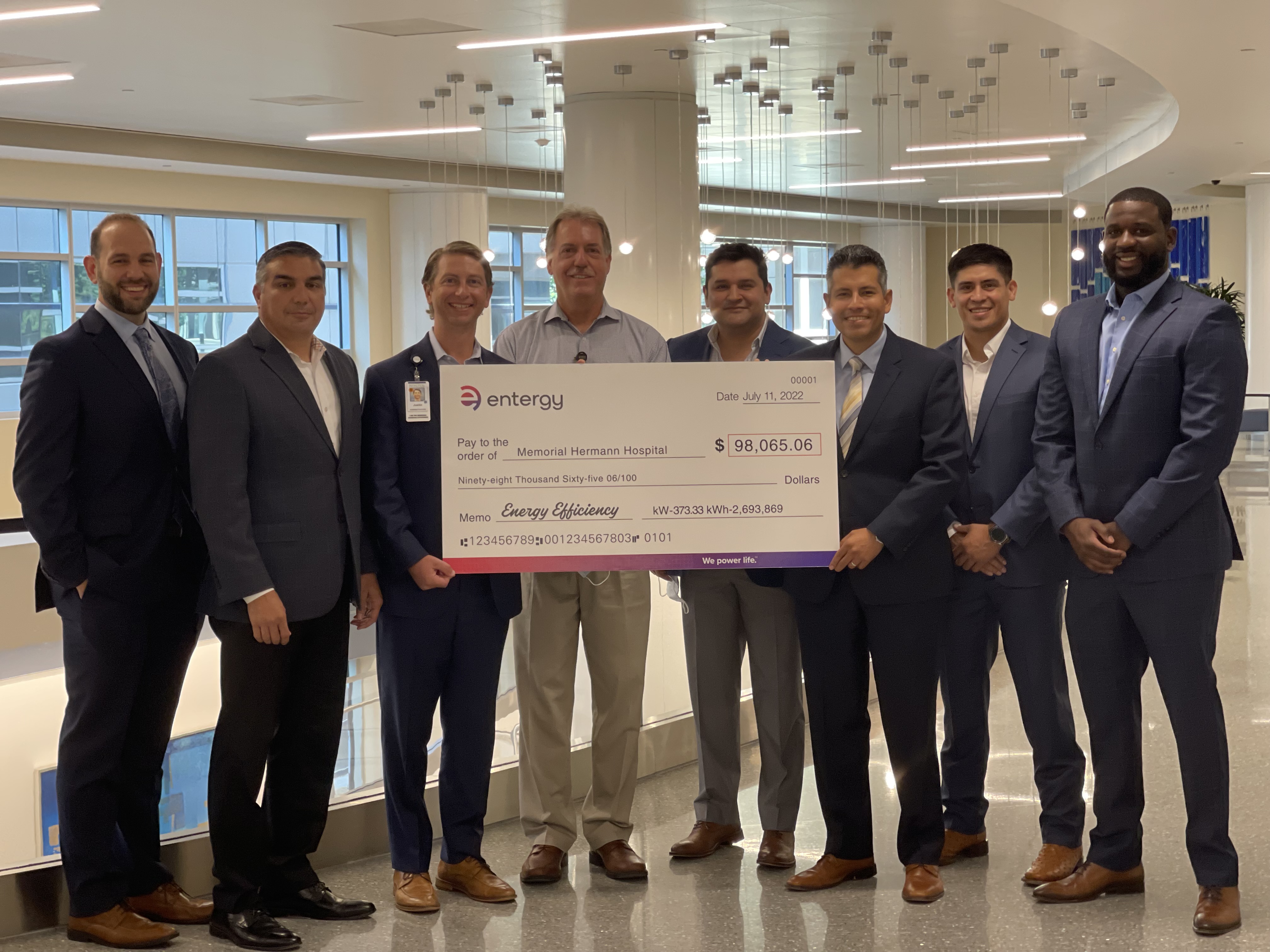 New facility at Memorial Hermann The Woodlands resulted in a total incentive of nearly $98,000 from Entergy Texas Commercial Solutions program
THE WOODLANDS, Texas – Entergy Texas recently recognized Memorial Hermann The Woodlands for its energy efficiency upgrades. Memorial Hermann The Woodlands recently expanded and built a new south tower which included the addition of new beds and offices to accommodate the growing community. The Entergy Texas Commercial Solutions program provided incentives for the LED lighting and a new chiller to supply air conditioning to the new tower. Memorial Hermann The Woodlands also added two floors to one of their existing parking garages which included additional installs of LED lighting.
These energy efficiency upgrades completed at the new facility resulted in a total incentive of nearly $98,000 from The Commercial Solutions program though Entergy Solutions, which provides technical and financial support to help customers identify and implement projects that reduce energy use.
"Helping Memorial Hermann The Woodlands save energy and reduce their energy expenses allows us to help the entire community," said Mark Delavan, program manager at Entergy Texas. "It's our objective to help businesses within the community achieve sustainability goals. We look forward to working with Memorial Hermann in their pursuit for additional energy savings."
Upgrades included energy efficient lighting, air conditioning, and kitchen appliance equipment in the new tower. Entergy Solutions energy engineers determined the project will lower usage by more than 2.6 million kWh annually, reducing carbon dioxide emissions equivalent to about 370 homes' electricity use for one year according to the Environmental Protection Agency.
"We have been working together for several years and this collaboration has been a part of our decision-making process as we move toward more energy efficiency upgrades. This was a very seamless process and Entergy Texas was in constant communication throughout the entire project," said Patrick Shay, director of engineering services at Memorial Hermann.
Entergy Texas has a portfolio of energy efficiency programs for both residential and business customers. To learn more about these programs, visit www.entergy-texas.com/energy_efficiency.
About Entergy Texas
Entergy Texas, Inc. provides electricity to more than 486,000 customers in 27 counties. Entergy Texas is a subsidiary of Entergy Corporation, a Fortune 500 company headquartered in New Orleans. Entergy powers life for 3 million customers through its operating companies across Arkansas, Louisiana, Mississippi and Texas. Entergy is creating a cleaner, more resilient energy future for everyone with our diverse power generation portfolio, including increasingly carbon-free energy sources. With roots in the Gulf South region for more than a century, Entergy is a recognized leader in corporate citizenship, delivering more than $100 million in economic benefits to local communities through philanthropy and advocacy efforts annually over the last several years. Our approximately 12,500 employees are dedicated to powering life today and for future generations.
---