News Release > Entergy Texas ofrece un crédito en la factura para ayudar a los clientes con facturas elevadas
For Immediate Release
Entergy Texas ofrece un crédito en la factura para ayudar a los clientes con facturas elevadas
09/19/2022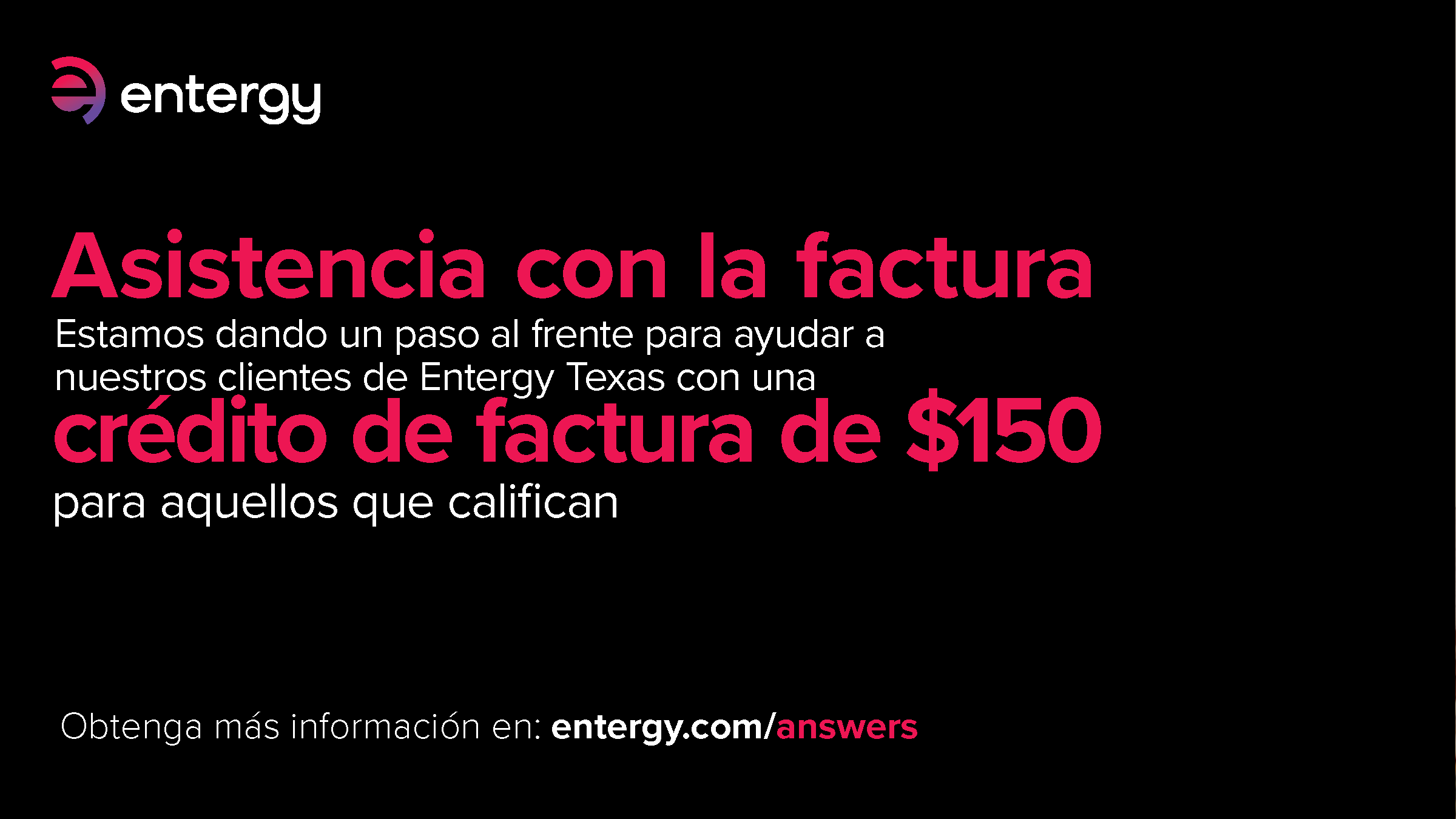 La solicitud de crédito de $150 en línea comenzará a las 9 de la mañana del 27 de septiembre
THE WOODLANDS, Texas - En Entergy Texas, nuestro negocio se centra en nuestros clientes, por lo que estamos dando un paso adelante para proporcionar alivio a los Tejanos que experimentan facturas altas como resultado de los desafíos recientes. Las temperaturas récord llevaron a un uso histórico de la energía en todo el estado este verano, y los altos precios del gas natural siguen afectando significativamente al núcleo de nuestra empresa: nuestros clientes. Por ello, nos hemos asociado con United Way of Greater Houston en colaboración con vecinos de United Ways para ofrecer un crédito en la factura de $150 a los clientes que cumplan los requisitos por orden de llegada.
"Las temperaturas han subido, el costo del gas natural ha subido, por lo que Entergy Texas está aumentando nuestros esfuerzos de asistencia a las facturas para asegurar que los clientes sigan teniendo acceso a energía asequible", dijo Eliecer "Eli" Viamontes, Presidente y Director General de Entergy Texas. "Al escuchar a nuestros clientes y permanecer comprometidos con nuestras comunidades, podemos proporcionar soluciones significativas a las familias de Texas que necesitan ayuda adicional".
La solicitud en línea para el crédito de facturas estará disponible a través del sitio web de United Way of Greater Houston a las 9 a.m. del 27 de septiembre. Los clientes deben tener en cuenta que se puede acceder a la aplicación mediante una computadora o un teléfono móvil, pero se requiere un teléfono móvil para recibir el código de acceso para verificar la configuración de la cuenta.
Aunque el crédito de $150 en la factura está dirigido a los clientes con ingresos familiares bajos o moderados, todos los clientes residenciales de Entergy Texas pueden solicitarlo. Para poder optar a él, los clientes deben tener unos ingresos familiares totales de hasta el 250% del nivel federal de pobreza, lo que equivale a 69.000 dólares para una familia de cuatro miembros. Visite www.entergy.com/answers para conocer los requisitos de elegibilidad y el proceso de solicitud.
Los créditos en la factura son sólo una de las muchas maneras en que Entergy Texas está dando un paso adelante para servir mejor a nuestros clientes. Nuestro compromiso de $1,7 millones para la asistencia en el pago de facturas para los clientes residenciales elegibles incluye $213.000 adicionales para el programa Power to Care de Entergy y $170.000 para las agencias locales asociadas. Además de la asistencia para el pago de facturas, Entergy Texas está adelantando $2,9 millones en depósitos de seguridad para más de 13.000 clientes elegibles.
Más información sobre nuestras iniciativas de ayuda a la facturación en www.entergy.com/answers.
Acerca de Entergy Texas
Entergy Texas, Inc. suministra electricidad a más de 486,000 clientes en 27 condados. Entergy Texas es una filial de Entergy Corporation, una compañía de la lista Fortune 500 con sede en New Orleans. Entergy alimenta la vida de 3 millones de clientes a través de sus compañías operativas en Arkansas, Luisiana, Mississippi y Texas. Entergy está creando un futuro energético más limpio y resiliente para todos con nuestra diversa cartera de generación de energía, que incluye fuentes de energía cada vez más libres de carbono. Con raíces en la región de Gulf South desde hace más de un siglo, Entergy es un líder reconocido en ciudadanía corporativa, aportando más de $100 millones en beneficios económicos a las comunidades locales a través de esfuerzos filantrópicos y de defensoría anualmente durante los últimos años. Nuestros aproximadamente 12,000 empleados se dedican a dar energía a la vida actual y a las futuras generaciones.
---