News Center > Entergy Supports GNO, Inc.'s Economic Development Efforts Through Grant
For Immediate Release
Entergy Supports GNO, Inc.'s Economic Development Efforts Through Grant
12/19/2019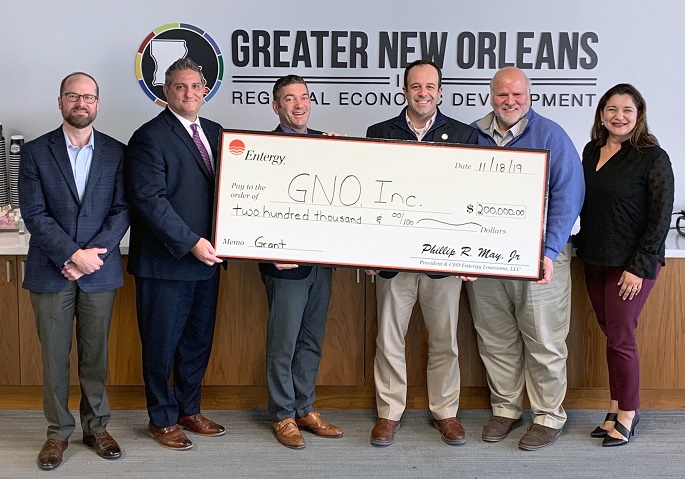 Entergy's Louisiana companies recently provided $200,000 to Greater New Orleans, Inc. to support the organization's economic development efforts in 10 south Louisiana parishes.
The funds will be used to create business development, retention and environmental programs in the Greater New Orleans area.
"Entergy's commitment to economic development strengthens our ability to attract and retain businesses which in turn draws in talent, creates opportunities for the local economy, improves quality of life and, ultimately — helps our region grow," said Michael Hecht, president and CEO of GNO, Inc.
"To help Louisiana thrive, it's paramount that we continue strong, productive partnerships with organizations like GNO, Inc." said Perry Pertuit, Entergy Louisiana new business and economic development manager. "Together, we can go beyond the power grid to help our friends and neighbors realize opportunities right here at home."
By growing the Greater New Orleans economy, cultivating the region's talent, transforming quality of life and elevating the region's external image, GNO, Inc. seeks to move the region forward for the benefit of the entire population. The grant contributions supports GNO, Inc. initiatives including GNOu, a demand-driven workforce development program, and WorkNOLA, a job database for those looking to work in the area.   
"We want to be a catalyst for economic growth in the city of New Orleans and beyond by connecting businesses and people to resources, and GNO, Inc. is helping us do that," said Seth Cureington, Entergy New Orleans director of economic development and technology innovation. "We can only be as successful as the communities we serve, so not only does it make sense to help build healthy, vibrant communities, but it's also the right thing to do."
Through its business and economic development teams, Entergy works with state and local government agencies, economic development organizations and community partners to attract new businesses and jobs to Louisiana. These resources include the state's official site selection center website, recruiting and lead generation, site development and certification, project management, strategic analysis, research, workforce and business intelligence data and access to business and community leaders along with state and regional partnerships.      
Since 2010, Entergy has actively participated in 146 announced economic development projects in Louisiana, totaling nearly $83 billion in capital investments and approximately 20,000 new direct jobs. For 12 years running, Site Selection magazine has named Entergy Corporation as one of the nation's top utilities in economic development.
For more information on Entergy's business development efforts, visit GoEntergy.com.
Entergy Louisiana, LLC provides electric service to more than 1 million customers and natural gas service to more than 93,000 customers in the greater Baton Rouge area. It has operations in southern, central and northern Louisiana.
Entergy New Orleans, LLC is an electric and gas utility that serves Louisiana's Orleans Parish. The company provides electricity to more than 200,000 customers and natural gas to more than 106,000 customers. Both companies are subsidiaries of Entergy Corporation.
Entergy Corporation is an integrated energy company engaged primarily in electric power production and retail distribution operations. Entergy owns and operates power plants with approximately 30,000 megawatts of electric generating capacity, including nearly 9,000 megawatts of nuclear power. Entergy delivers electricity to 2.9 million utility customers in Arkansas, Louisiana, Mississippi and Texas. Entergy has annual revenues of approximately $11 billion and more than 13,000 employees.
---