News Release > Entergy Nuclear celebrates Read Across America Day with North Jackson Elementary School
For Immediate Release
Entergy Nuclear celebrates Read Across America Day with North Jackson Elementary School
03/02/2023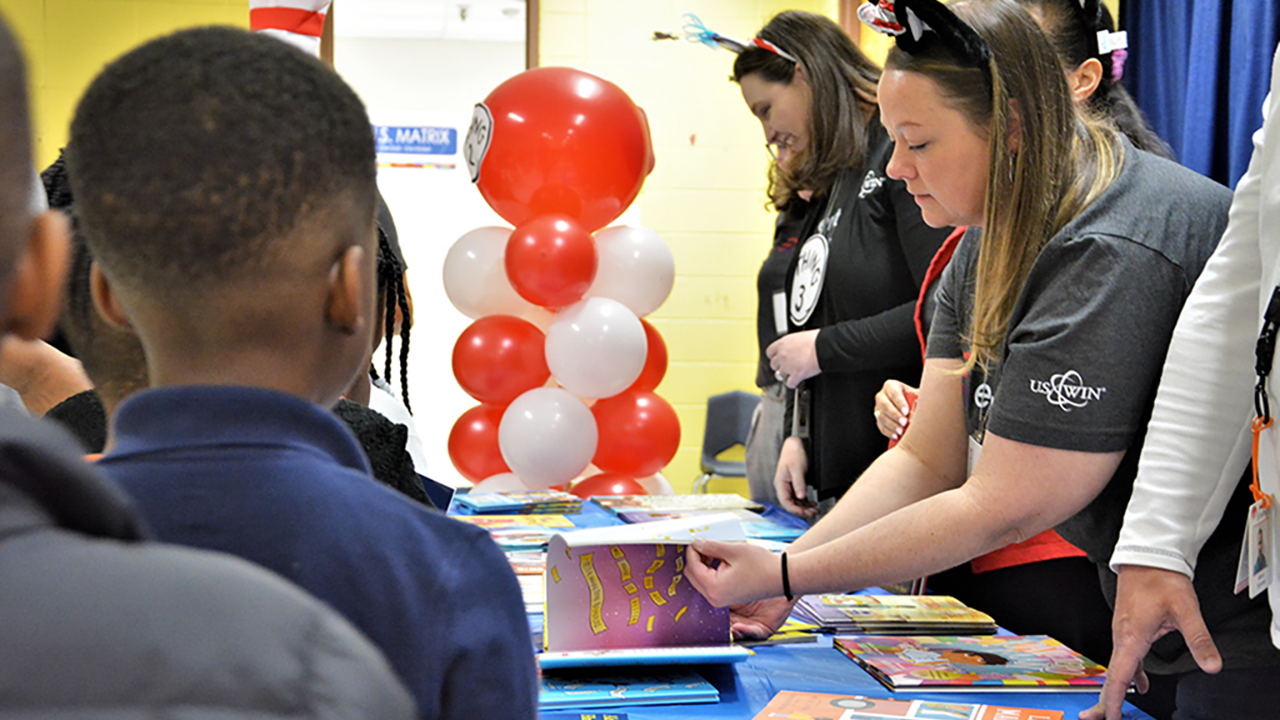 Women in Nuclear's book drive and volunteer day successful
JACKSON, Miss. – Entergy Nuclear's chapter of U.S. Women in Nuclear recently donated more than 500 books to the company's adopted school, North Jackson Elementary School, for National Read Across America Day, observed March 2.
North Jackson Elementary School was recommended as a partner due to its needs, the potential impact Entergy Nuclear can have on the school and its proximity to company headquarters.
"I've seen so many smiles today from our students knowing that we have more than 40 people in this building who took time out of their day to show love to them," said Jocelyn Smith, school principal. "Letting the students choose their very own book to take home for Read Across America Day is phenomenal."
Entergy team members set up a table filled with books by grade levels for children to pick their favorite. Meanwhile, other nuclear employees participated in enrichment activities with the students and helped clean and decorate the walls and bulletin boards.
The book drive was held as a competition between each floor of employees at Entergy Nuclear's headquarters. The drive far exceeded its goal of 382 books—one for each student. The extra 135 books were donated to classrooms and the library.
"We were able to make a big impact at the school by handing out books, refreshing bulletin boards and supporting teachers with reading and educational games, as well as some cleaning," said Tamara May, Entergy Nuclear U.S. Women in Nuclear president and a project specialist for the fleet. "We look forward to continuing our outreach at the school. I'm proud of my Entergy co-workers and U.S. WIN chapter for supporting this event. We made a difference."
U.S. Women in Nuclear is a global initiative founded in 1993 to support and encourage women working in nuclear industries. The book drive and volunteering were a part of the Entergy Nuclear chapter's annual summit held in Jackson this week.
For more than 30 years, Entergy Nuclear headquarters has supported Jackson Public Schools' Partners in Education Program.
"Partners in Education is grateful to Entergy for their generous support of time and resources to North Jackson Elementary School," said Thea Faulkner, director of Partners in Education for Jackson Public schools. "Our scholars and team members are encouraged by the consistent engagement of the volunteers who visit the school on a regular basis. It's also a great example to our young children on the value of community."
Entergy Nuclear, which owns and operates nuclear plants in Arkansas, Louisiana and Mississippi is headquartered in Jackson.
About Entergy
Entergy, a Fortune 500 company headquartered in New Orleans, powers life for 3 million customers through its operating companies across Arkansas, Louisiana, Mississippi and Texas. Entergy is creating a cleaner, more resilient energy future for everyone with our diverse power generation portfolio, including increasingly carbon-free energy sources. With roots in the Gulf South region for more than a century, Entergy is a recognized leader in corporate citizenship, delivering more than $100 million in economic benefits to local communities through philanthropy and advocacy efforts annually over the last several years. Our approximately 12,000 employees are dedicated to powering life today and for future generations. Learn more at entergy-nuclear.com and follow @EntergyNuclear on Twitter. #WePowerLife
---