News Release > Entergy Louisiana earns 2022 ENERGY STAR® Partner of the Year Award
For Immediate Release
Entergy Louisiana earns 2022 ENERGY STAR® Partner of the Year Award
05/06/2022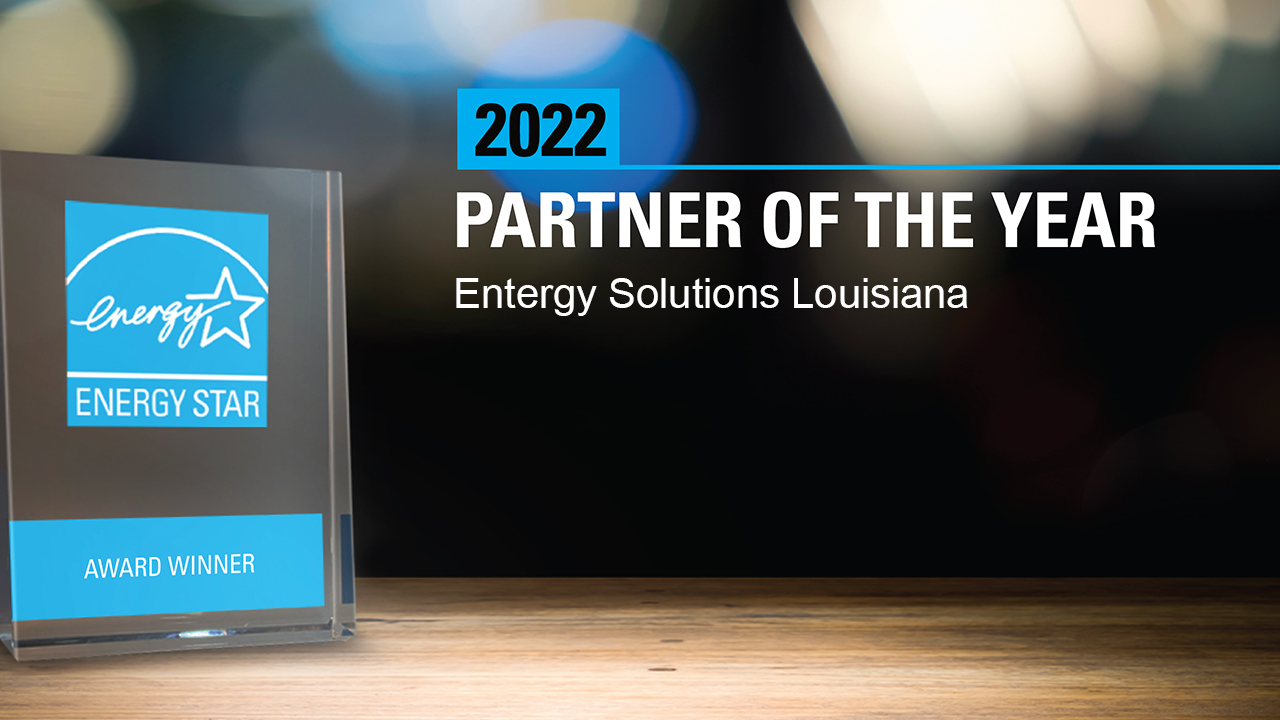 JEFFERSON, La. – Entergy Louisiana's Entergy Solutions program has been awarded the ENERGY STAR Partner of the Year Award for its exemplary commitment and dedication to energy efficiency.
The Entergy Solutions program was recognized for its efforts to advance innovations in residential energy efficiency programs and technologies to improve the affordability of home energy upgrades for diverse households through Home Performance with ENERGY STAR.
"We're proud to once again be recognized by ENERGY STAR for the work we do to provide Entergy Louisiana customers with innovative ways to efficiently manage their energy usage and save money on their bills" said Phillip May, Entergy Louisiana president and CEO. "The Energy Smart program is an important component of our commitment to helping customers recognize the benefits that energy efficiency can provide, such as lower utility bills, increased system reliability and the reduction of greenhouse gas emissions."
The program, which won an ENERGY STAR award for its second straight year, reduces the up-front cost of a variety of energy efficiency upgrades for Entergy Louisiana customers and partners with participating trade allies and retailers, who help customers find new ways to save around their home or business.
Each year, the ENERGY STAR program honors a group of businesses and organizations that have made outstanding contributions to protecting the environment through superior energy achievements. ENERGY STAR Award Winners lead their industries in the production, sale and adoption of energy-efficient products, services, and strategies. These efforts are essential to fighting the climate crisis and protecting public health.
Winners are selected from a network of thousands of ENERGY STAR partners. For a complete list of 2022 winners and more information about ENERGY STAR's awards program, visit energystar.gov/awardwinners.
About Entergy Louisiana
Entergy Louisiana, LLC provides electric service to more than 1 million customers in 58 parishes and natural gas service to more than 94,000 customers in Baton Rouge, Louisiana. Entergy Louisiana is a subsidiary of Entergy Corporation, an integrated energy company engaged in electric power production, transmission and retail distribution operations. Entergy delivers electricity to 3 million utility customers in Arkansas, Louisiana, Mississippi and Texas. Entergy owns and operates one of the cleanest large-scale U.S. power generating fleets with approximately 30,000 megawatts of electric generating capacity, including 7,000 megawatts of nuclear power. Headquartered in New Orleans, Louisiana, Entergy has annual revenues of $10 billion and approximately 12,500 employees.
About ENERGY STAR
ENERGY STAR® is the government-backed symbol for energy efficiency, providing simple, credible, and unbiased information that consumers and businesses rely on to make well-informed decisions. Thousands of industrial, commercial, utility, state, and local organizations—including more than 40 percent of the Fortune 500®—rely on their partnership with the U.S. Environmental Protection Agency (EPA) to deliver cost-saving energy efficiency solutions. Since 1992, ENERGY STAR and its partners helped American families and businesses avoid more than $450 billion in energy costs and achieve 4 billion metric tons of greenhouse gas reductions. More background information about ENERGY STAR can be found at energystar.gov/about and energystar.gov/numbers.
---