News Release > Entergy launches child savings account program at the Children's Foundation of Mississippi Summit
For Immediate Release
Entergy launches child savings account program at the Children's Foundation of Mississippi Summit
01/19/2023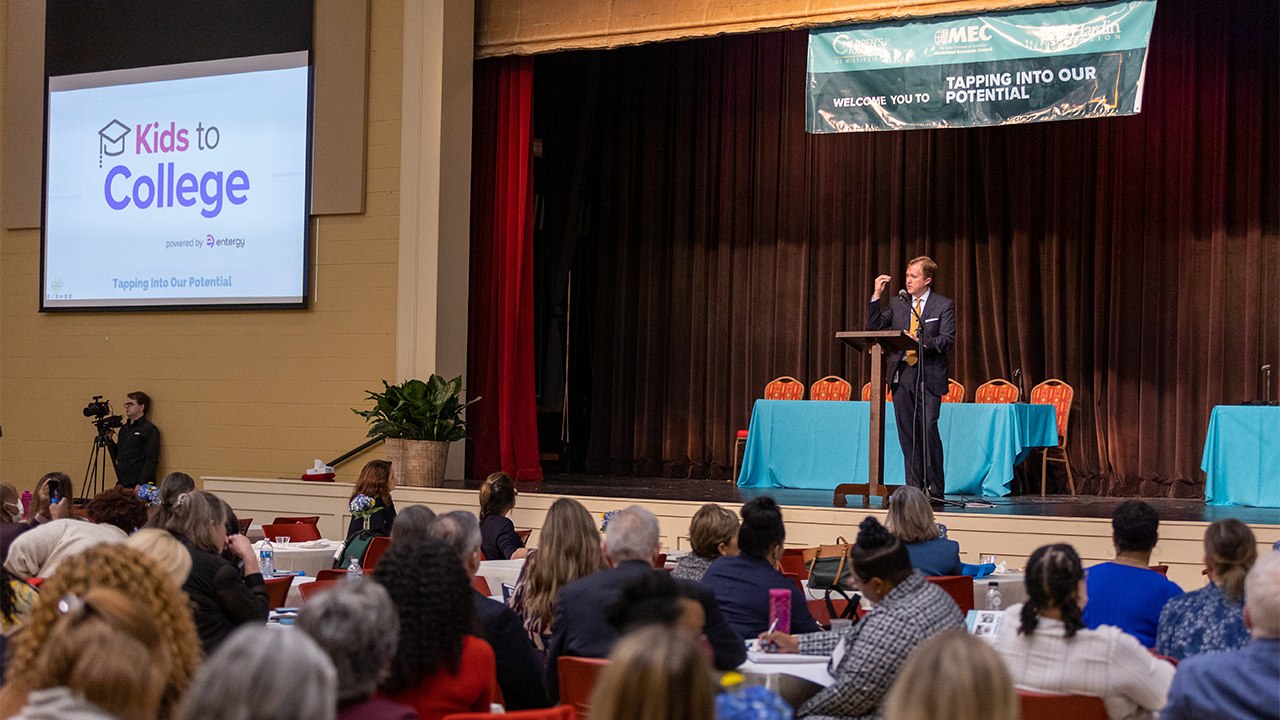 Pilot Company will donate $60,000 in matching funds for eligible families
JACKSON, Miss. – Entergy Mississippi, LLC has kicked off a new child savings account program at the Children's Foundation of Mississippi Summit. Kids to College, powered by Entergy, in partnership with the Children's Foundation of Mississippi, announced the program will donate $60,000 to help low- and moderate-income Mississippi families establish 1,200 child savings accounts. Eligible families can sign up for a Kids to College my529 account with the help of our community partners and a $50 match from Entergy.
"Kids to College is an investment in the future of our young people and the future of Mississippi," said Haley Fisackerly, president and CEO, Entergy Mississippi. "We've been a leader in helping advance the support for education and workforce development in the state for years and are excited to be extending that legacy by launching this program for all of Entergy right here in Mississippi. It will help ensure our children will have an equal chance at achieving their dreams."
A child savings account is a savings account designed specifically for postsecondary education. These accounts allow families to put money away to start saving for their children to attend a two- or four-year college, trade school or technical school.
As a corporate leader and service provider, Entergy believes in the dreams of the families we serve. Everyone deserves the opportunity to continue their education and we want to partner with families to help make those dreams a reality. When a family plans for their child's future by setting aside funds for college, the child is four times more likely to complete a degree.
Families may sign up for a Kids to College my529 account for each child under age 16.  Eligibility requirements to qualify for Entergy's $50 match include:
Must be an Entergy customer.
Families must meet income thresholds of either single parent or guardians with up to $52,000 annual income or dual earner households with $60,000 annual income.
The child savings account must reach a $50 balance to receive the matching funds.
"We power life today and for future generations, said Patty Riddlebarger, vice president of corporate social responsibility. "We work together to improve lives, create opportunities, strengthen communities and proactively find solutions to break the cycle of generational poverty and help families achieve economic stability."
Entergy is powering Kids to College by dedicating matching funds for child savings accounts across our four-state service area. The program is made possible thanks to an endowment fund created in honor of Entergy's late Chairman and CEO J. Wayne Leonard.  
Eligible individuals can sign up for an account through the Kids to College and Children's Foundation of Mississippi program portal here.
About Entergy Mississippi
Entergy Mississippi, LLC provides electricity to approximately 461,000 customers in 45 counties. Entergy Mississippi is a subsidiary of Entergy Corporation, an integrated energy company engaged in electric power production, transmission and retail distribution operations. Entergy delivers electricity to 3 million utility customers in Arkansas, Louisiana, Mississippi and Texas. Entergy owns and operates one of the cleanest large-scale U.S. power generating fleets with approximately 30,000 megawatts of electric generating capacity, including 7,000 megawatts of nuclear power. Headquartered in New Orleans, Louisiana, Entergy has annual revenues of $10 billion and approximately 12,500 employees.
---