News Center > Entergy Grant Helps Refurbish, Restock Flooded Schools' Libraries
For Immediate Release
Entergy Grant Helps Refurbish, Restock Flooded Schools' Libraries
10/23/2017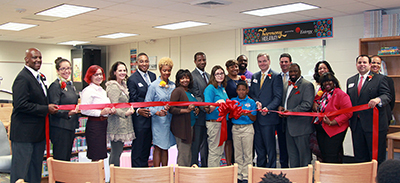 BATON ROUGE, La. – Students at Glen Oaks Park Elementary and Brookstown Middle School now have the opportunity to enjoy new library books that educate, celebrate and create awareness around the importance of diversity, inclusion, kindness, compassion and empathy.

Ceremonies were held Monday in the libraries of the two schools – both damaged by the historic August 2016 flood – to unveil dedicated reading nooks where students can enjoy books covering a range of topics from diversity and inclusion to character building.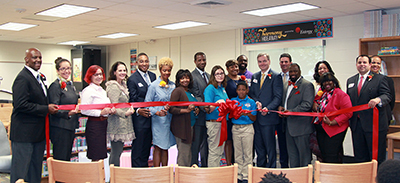 Pictured is the the ribbon cutting at Brookstown Middle School
The two reading areas were furnished and stocked with a total of 1,500 books thanks to a $35,000 grant from Entergy Corporation.

The 1,500 Points of Illumination project was funded through an internal Entergy grant program meant to help employees create projects that advance diversity, inclusion and understanding in communities where Entergy operates. The company established the grant program, EnACT, short for Entergy and Communities Together, in 2016.

Employees of Entergy's legal, ethics and compliance department submitted the 1,500 Points of Illumination grant request.

"Our hope is that these books will foster a discussion among students and their friends and family about the need for greater understanding and unity, topics that could not be more relevant given the tenor underlying too much of today's public discourse," said Marcus Brown, Entergy's executive vice president and general counsel.

"This is a great opportunity to teach children about the importance of diversity and inclusion, how our real strength lies in our differences," said Phillip May, president and CEO of Entergy Louisiana.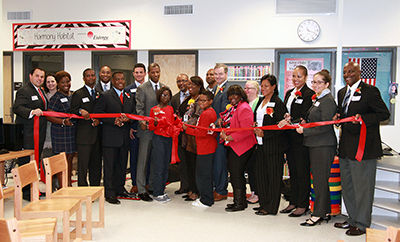 Pictured is the ribbon cutting at Glen Oaks Park Elementary School

East Baton Rouge Parish School Superintendent Warren Drake said, "The East Baton Rouge Parish School System values community partnerships that enhance and support student learning.  Entergy Corporation's grant of $35,000 to refurbish and restock books at Brookstown Middle School and Glen Oaks Park Elementary is a vital effort that will assist our school and students in recovery and provide increased learning opportunities through literature.  We appreciate this effort and the ongoing support of Entergy Corporation.

Entergy Louisiana, LLC provides electric service to more than 1 million customers and natural gas service to nearly 93,000 customers in the greater Baton Rouge area. With operations in southern, central and northeastern Louisiana, the company is a subsidiary of Entergy Corporation.

Entergy Corporation is an integrated energy company engaged primarily in electric power production and retail distribution operations. Entergy owns and operates power plants with approximately 30,000 megawatts of electric generating capacity, including nearly 9,000 megawatts of nuclear power. Entergy delivers electricity to 2.9 million utility customers in Arkansas, Louisiana, Mississippi and Texas. Entergy has annual revenues of approximately $10.8 billion and nearly 13,000 employees.    
                                                                       -30-
                                                         Twitter: @EntergyLA
---