News Release > Entergy and GNO, Inc. driving economic development in Greater New Orleans
For Immediate Release
Entergy and GNO, Inc. driving economic development in Greater New Orleans
02/23/2023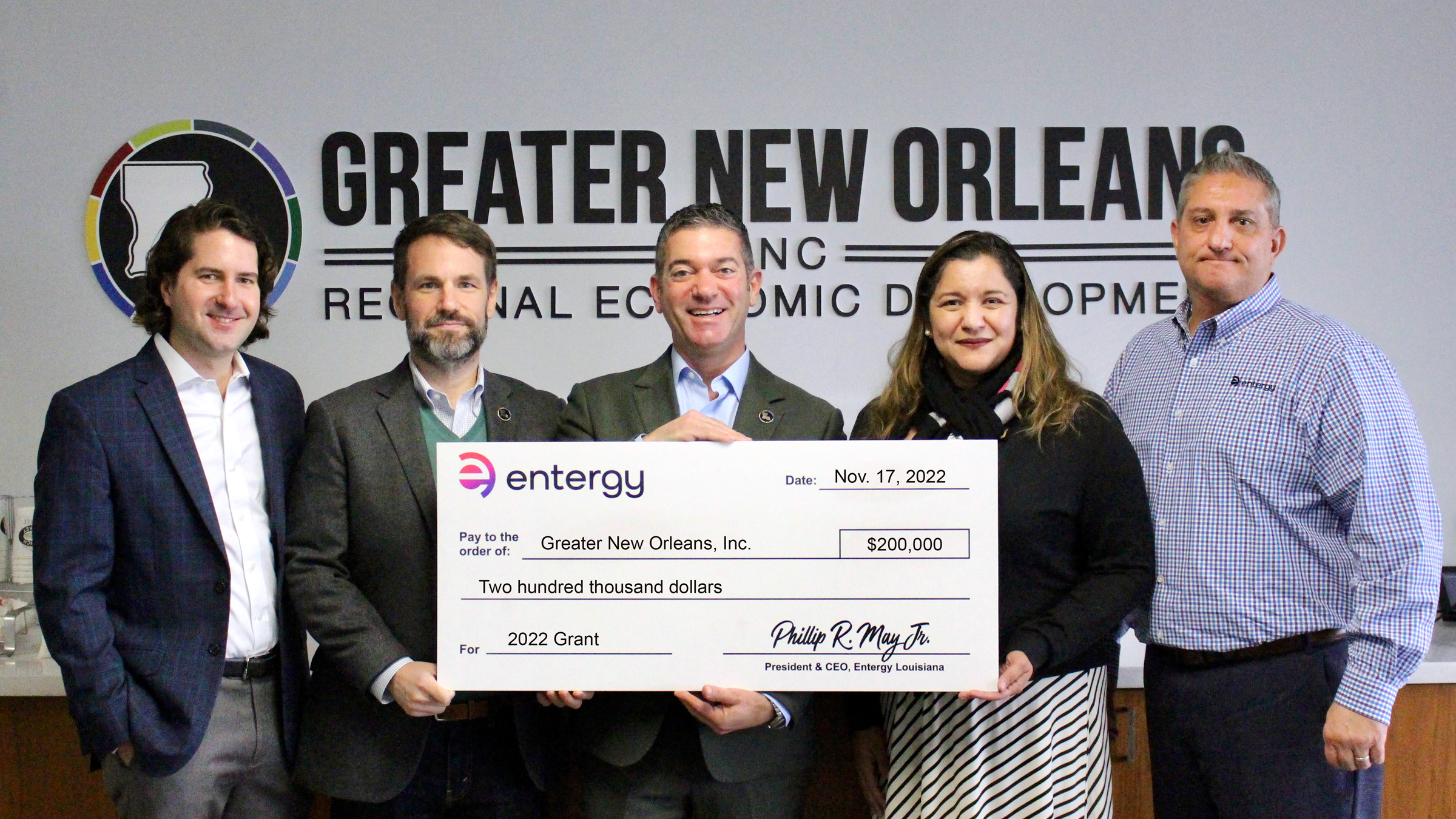 NEW ORLEANS — Entergy New Orleans and Entergy Louisiana, subsidiaries of Entergy Corporation, are continuing to partner with regional organizations to help the Greater New Orleans area grow and prosper through economic development. One of the organizations helping the companies create a more vibrant economy is Greater New Orleans, Inc. (GNO, Inc.).
GNO, Inc. has received nearly $200,000 to help fund efforts to retain and attract businesses and stimulate job growth within 10 parishes across Southeast Louisiana, including Jefferson, Orleans, Plaquemines, St. Bernard, St. Charles, St. James, St. John the Baptist, St. Tammany, Tangipahoa and Washington parishes.
"Entergy is a uniquely important and effective partner for GNO, Inc.," said Michael Hecht, GNO, Inc. president and CEO.  "Entergy provides critical infrastructure for the economy, combined with productive intellectual support and sustaining funding for economic development. 'Essential' is an apt term to describe the importance of Entergy to Greater New Orleans."
Entergy works with state and local government agencies like Louisiana Economic Development (LED), organizations like GNO, Inc. and community partners to support businesses through recruitment, incentives, site selection and project management, including those operating at the national and global level. To help businesses determine where to locate or expand, Entergy developed and maintains a buildings and sites website called the Site Selection Center. The site includes details about development-ready land, including available utilities and transportation access.
Those strong partnerships and innovative tools have played a key role in helping recruit companies like Calucem to New Orleans East and Niagara Bottling to Tangipahoa Parish. Both companies plan to build manufacturing facilities and Entergy has committed to meeting the demand for power. Together, the companies say they will bring 140 new jobs to the region, with LED estimating the economic ripple effect will result in hundreds of additional indirect jobs.
Recruitment sometimes involves touting various sites across Louisiana and key attributes about the state like a robust transportation system, access to pipelines, rail and waterways and an available and talented workforce. While Entergy New Orleans has elevated the 50-acre Propel Park site located at NASA's Michoud Assembly Facility, Entergy Louisiana has featured the nearly 200-acre Terre Haute Development site in Reserve, Louisiana.
To support site development, Entergy provides in-depth research and analyses regarding workforce availability, construction and transportation, to name a few. To learn more about the services provided by the company's business and economic development team, visit goentergy.com/our-region/louisiana/.
"We're proud to have a strong partnership with GNO Inc. to help grow and market the Greater New Orleans area," said Taurus Wright, Entergy New Orleans business and economic development director. "We'll continue to work with them to attract new businesses and help our existing customer base grow."
"GNO Inc. has a relentless focus on growing Southeast Louisiana and they've had a lot of success doing so," said Perry Pertuit, Entergy Louisiana business and economic development manager. "We're proud to continue supporting them and working collaboratively with their dedicated team to pave a sustainable path for a region that's critical to our state's economy."
Over this last decade, Entergy has actively participated in more than 130 announced economic development projects in Louisiana, totaling more than $106 billion in capital investments and creating approximately 17,380 new direct jobs.
For 15 years running, Site Selection magazine has named Entergy Corporation as one of the nation's top utilities in economic development. In addition, Area Development magazine recognized Louisiana with a silver shovel award for local economic development efforts and Business Facilities magazine placed Louisiana first for customized training and second for manufacturing output in their 17th annual rankings. 
To learn more about how Entergy partners with LED and regional organizations to help the state grow through economic development, visit the Entergy Newsroom.
About Entergy New Orleans
Entergy New Orleans, LLC is an electric and gas utility that serves Louisiana's Orleans Parish. The company provides electricity to more than 209,000 customers and natural gas to more than 110,000 customers.

About Entergy Louisiana
Entergy Louisiana, LLC provides electric service to more than 1 million customers in 58 parishes and natural gas service to more than 94,000 customers in Baton Rouge, Louisiana.
Entergy New Orleans and Entergy Louisiana are subsidiaries of Entergy Corporation, an integrated energy company engaged in electric power production, transmission and retail distribution operations.
---