News Center > Entergy Donations Aimed at Flood Recovery in the Baton Rouge Area
For Immediate Release
Entergy Donations Aimed at Flood Recovery in the Baton Rouge Area
03/08/2017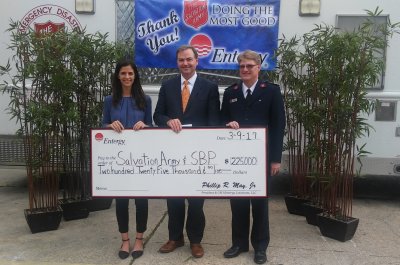 Two agencies to receive $225,000
BATON ROUGE, La. – In continuing its efforts to help Baton Rouge customers and community partners recover from last year's devastating floods, Entergy has awarded grants totaling $225,000 to two nonprofits.
Entergy executives were joined Thursday by officials with the Baton Rouge Area Foundation to present grants to the Salvation Army of Baton Rouge and to SBP.  The presentations were held at the Salvation Army location in the 7300 block of Airline Highway, where floodwater damaged the agency's shelter and administrative offices.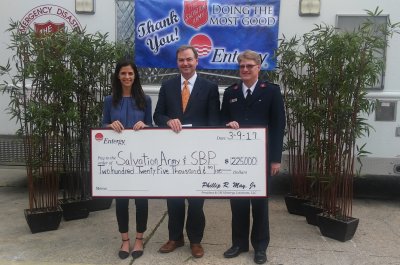 Phillip May, president and CEO of Entergy Louisiana, presents donations aimed at helping the ongoing recovery from last year's historic floods to Elizabeth Egle of SBP and Capt. Brett Meredith of The Salvation Army of Greater Baton Rouge.
Entergy's $100,000 donation to the Salvation Army officials will help the nonprofit repair its offices. Entergy's donation of $125,000 to SBP will underwrite the rebuilding of flooded homes. SBP, formerly known as the St. Bernard Project, started its rebuilding work soon after Hurricane Katrina and has spread across the country.
In September 2016, Entergy contributed $300,000 to its donor-advised fund at the BRAF. The company is making grants from that fund to the two nonprofits. The Baton Rouge Area Foundation will deploy the remaining $50,000 of the original $300,000 grant from Entergy to continue providing aid to flood victims.
"The flooding impacted everyone in Baton Rouge, including Entergy buildings, offices and employees," said Phillip May, president and CEO of Entergy Louisiana. "We want to see everyone recover from this devastation as quickly as possible, and we are proud to partner with these outstanding nonprofit agencies to help with the rebuilding process."
"We appreciate Entergy and others entrusting us with their flood relief contributions," said John G. Davies, president and CEO of the Foundation. "We've made sure that flood relief donations are granted to organizations that are providing the greatest return to those in need, while also helping us rebuild stronger so we can stand up to future disasters."
Since the flooding last August, Entergy has donated some $500,000 in flood relief contributions, including grants to the Baton Rouge Food Bank, the Capital Area Chapter of the American Red Cross and the Baton Rouge Area Foundation.
In addition, more than 400 Entergy employees, friends and family members logged 10,000-plus hours of volunteer service in response to flooding. About 360 of those were employees who volunteered more than 8,000 hours – an estimated value of $221,472 in labor. Dozens of other employees donated items to help in the flood relief efforts, while others helped sort and distribute items to those in need.
Entergy Louisiana, LLC provides electric service to more than 1 million customers and natural gas service to approximately 93,000 customers in the greater Baton Rouge area. With operations in southern, central and northeastern Louisiana, the company is a subsidiary of Entergy Corporation.
Entergy Corporation is an integrated energy company engaged primarily in electric power production and retail distribution operations. Entergy owns and operates power plants with approximately 30,000 megawatts of electric generating capacity, including nearly 10,000 megawatts of nuclear power. Entergy delivers electricity to 2.9 million utility customers in Arkansas, Louisiana, Mississippi and Texas. Entergy has annual revenues of approximately $10.8 billion and more than 13,000 employees.
-30-
entergylouisiana.com
facebook.com/EntergyLA
Twitter: @EntergyLA
---