News Center > Entergy Arkansas Offers Simple Ways to Manage Your Energy Usage as Temps Fall
For Immediate Release
Entergy Arkansas Offers Simple Ways to Manage Your Energy Usage as Temps Fall
11/18/2021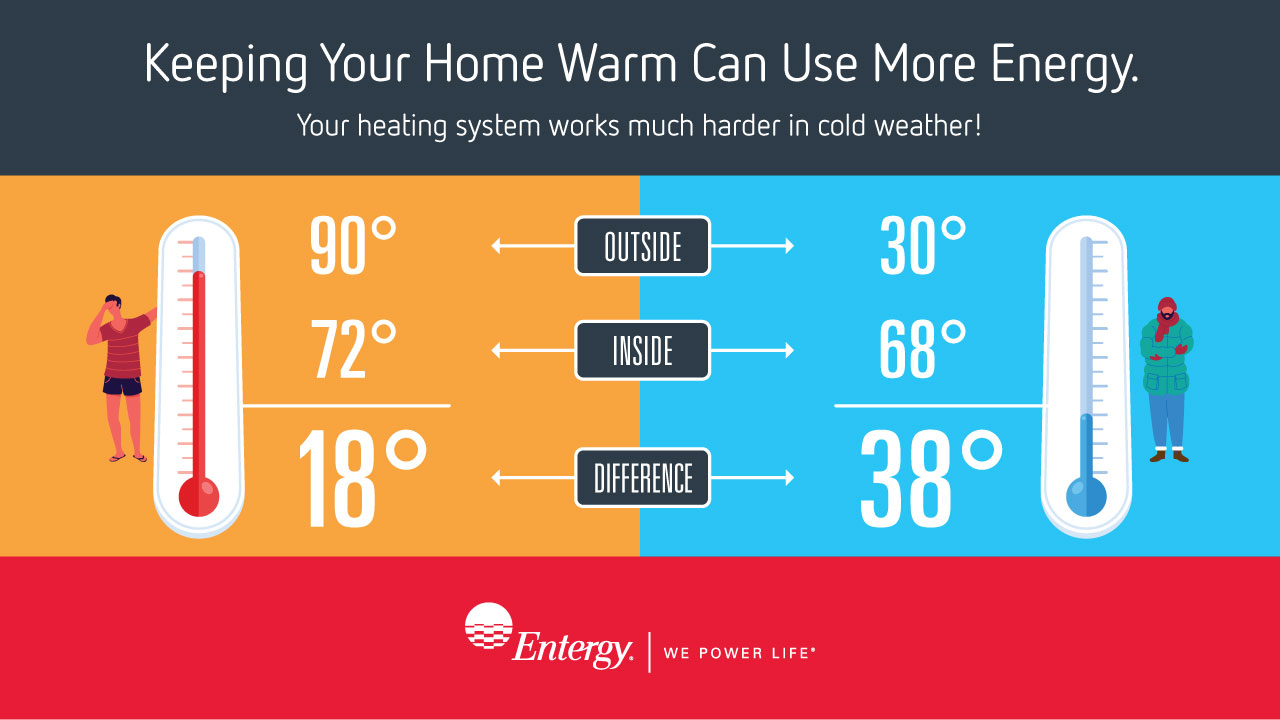 Cooler temperatures are beginning to settle in the state, and some Entergy Arkansas customers may have already turned on their heaters at night to take the chill out of the air. While choosing what temperature to set the thermostat, keep in mind that heating your home uses more energy than cooling it.
In the summer, the difference between the indoor and outdoor temperatures on a typical 90-degree day might be 18 degrees. But in the winter, the difference between the indoor temperature of 68, for example, and an outdoor temperature of 30 is 38 degrees. It takes more energy to make up a difference of 38 degrees than it does 20 degrees. 
Heating and cooling costs can account for as much as 55% of a customer's monthly energy usage, so remember that setting the thermostat at a lower temperature in the winter will reduce the amount of energy consumed, resulting in savings on energy bills.
Entergy Arkansas customers with advanced meters have a handy way to access detailed energy usage data online through the MyAdvisor dashboard by logging into www.entergy.com/MyAdvisor to help manage their bills and conserve energy.
Once logged in, customers can visit the "My Usage and Cost" section to compare energy usage and cost by monthly, daily, and hourly increments. The MyAdvisor tool also is available through the Entergy app for smart phones.
The bill projection tab provides an estimate of what a bill will be by the end of the billing cycle. The bill analyzer tool lets a customer compare previous bills by month and year to better understand the effects of variables like the number of days in the billing cycle, energy usage, fuel costs and weather.
In addition to increased energy usage during the winter months, worldwide conditions have resulted in increases in the cost of natural gas. While Entergy Arkansas provides electricity and not gas, the company relies on gas-powered turbines to generate power. Although Entergy Arkansas incurs the real-time fuel costs, customers pay those costs after the fact averaged across a 12-month period. Due to these conditions, customers may experience bill increases related to the fuel component of their bill related to 2021 once the fuel factor is reset in April 2022.  However, to help lessen the bill impacts in 2022 from the severe weather in February 2021, the company filed a fuel rate in April 2021 with the Arkansas Public Service Commission that would spread the costs over 24 months rather than 12, to prevent a larger increase in 2022.
Some simple steps can improve a home's energy efficiency, thereby reducing energy usage and creating savings on the electric bill when the temperature drops outside:
Install a programable thermostat.
Lower your thermostat setting to 68 degrees.
Make sure vent returns aren't covered with furniture or curtains.
Check all the vents in your home and make sure they are fully opened. Close the ones in rooms not being used.
Close your fireplace damper when it is not in use.
Use a fan to circulate warm air through the room rather than relying completely on your heating unit.
Add insulation and seal air leaks to keep the warm air in and cold air out.
If it's sunny out, open your curtains to allow the heat from the sun to warm the house.
Energy costs can be greater in the cooler months, and Entergy Arkansas has created a customer assistance plan for those who are struggling to pay that could include deferred payment arrangements, level billing and "Pick-A-Date" for billing. Those seeking to make payment arrangements should call 1-800-ENTERGY, visit www.EntergyArkansas.com, or download the Entergy mobile app.
To learn more about tools available to you to manage your bill and usage, visit these pages:
Entergy Arkansas has been serving the state for more than 100 years, and how consumers use and manage energy is now more critical than ever. The company is committed to providing customers with solutions to save money and work towards a more sustainable future.
ABOUT ENTERGY ARKANSAS
Entergy Arkansas provides electricity to approximately 722,000 customers in 63 counties. Entergy Arkansas is a subsidiary of Entergy Corporation (NYSE: ETR), an integrated energy company engaged primarily in electric power production and retail distribution operations. Entergy delivers electricity to three million utility customers in Arkansas, Louisiana, Mississippi and Texas. Entergy has annual revenues of $10 billion and approximately 12,500 employees.
---