News Release > Entergy Arkansas crews help make neighborhoods shine brighter for customers
For Immediate Release
Entergy Arkansas crews help make neighborhoods shine brighter for customers
06/08/2023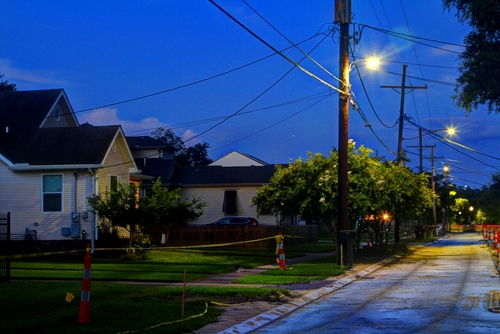 More than 300 LED streetlight installations currently underway in tornado-devastated areas
LITTLE ROCK, Ark. – Entergy Arkansas has been working with the City of Little Rock to illuminate dark areas and add energy efficient LED street lighting as part of their efforts to "Build Back Stronger" following the March 31 tornado.
Residents in the Walnut Valley community and other areas hardest hit by the tornado will see brand new poles and lights in their community, as the restoration process has allowed Entergy Arkansas to simultaneously make improvements as they rebuild. Adequate streetlighting is important to customers, and the new LED streetlights will provide enhanced lighting for neighborhood residents by shining brighter, lasting longer and being more energy efficient.
New lights had to be ordered and debris had to be cleared before the work to replace the streetlights could begin. Crews are scheduling work by neighborhood, with a goal of having all lights replaced by early August. Entergy Arkansas has been regularly coordinating with city officials about debris removal and the lighting progress.
"We currently have around 300 lighting poles to install and more than 600 streetlights we are replacing," said Chris Cook, manager for customer service at Entergy Arkansas. "The last several months have been a dark time for our customers who suffered damages from the tornado and we hope these new installations will help make things a little brighter for them."
Replacement poles and streetlights have already been installed along North Shackelford to ensure the main travel routes in the community are well covered. Regional crews are working each day on completing these installations throughout damaged neighborhoods in the area.
Residents displaced by the tornado should contact Entergy Arkansas as repairs are made and homes are rebuilt. Once service to the home has been reestablished, private lighting repairs and replacements will be made promptly.
"Power must be safely restored to homes in the area before any new poles or lights can be installed," Cook said. "Customers with Entergy Arkansas lights installed on their private property that have not been repaired should contact us to let us know there is an outage we may not be aware of."
Customers who have questions or concerns regarding outdoor lighting or any restoration efforts on their street should call 1-800-ENTERGY and speak to a customer service representative.
About Entergy Arkansas
Entergy Arkansas, LLC provides electricity to approximately 730,000 customers in 63 counties. Entergy Arkansas is a subsidiary of Entergy Corporation, a Fortune 500 electric company. Entergy powers life for 3 million customers through our operating companies in Arkansas, Louisiana, Mississippi and Texas. We're investing in the reliability and resilience of the energy system while helping our region transition to cleaner, more efficient energy solutions. With roots in our communities for more than 100 years, Entergy is a nationally recognized leader in sustainability and corporate citizenship. Since 2018, we have delivered more than $100 million in economic benefits each year to local communities through philanthropy, volunteerism and advocacy. Entergy is headquartered in New Orleans, Louisiana, and has approximately 12,000 employees. For the latest news from Entergy, visit the Newsroom.
---