News Center > Building Stronger Communities, Entergy Charitable Foundation to Award Nearly $3 Million in Grants to Help Build Stronger Communities in 2017
For Immediate Release
Building Stronger Communities, Entergy Charitable Foundation to Award Nearly $3 Million in Grants to Help Build Stronger Communities in 2017
01/24/2017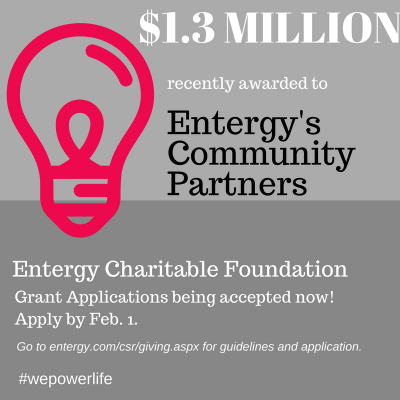 Together with Entergy Corporation Charitable Giving, Annual Award Grants Total Nearly $16 Million
NEW ORLEANS, Jan. 25, 2017 – Filling food pantries, raising literacy rates and providing health care for low-income families are a few examples of community-building activities fueled by more than $1.36 million recently awarded by the Entergy Charitable Foundation. The grants benefit 66 nonprofit organizations working in communities across Arkansas, Louisiana, Massachusetts, Mississippi, New York and Texas.
"Charitable contributions are among the most important ways We Power Life in our communities by expanding resources and services for those who need it most," said Patty Riddlebarger, director of Entergy's corporate social responsibility program. "Employees and retirees also contribute to our efforts by volunteering for charitable organizations in ways that support our mission to add value to the communities we serve."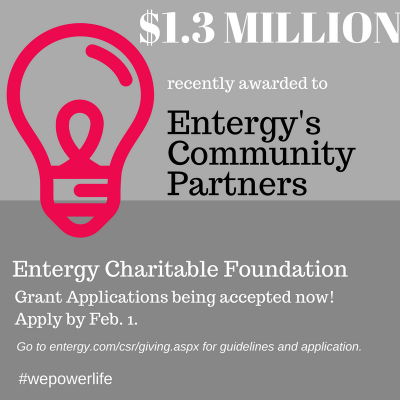 Entergy Charitable Foundation grants are awarded twice annually, and paired with $1.5 million in grants awarded earlier last year, the Foundation's 2016 giving totaled $2.8 million. Applications for the first cycle of the Foundation's 2017 awards can be submitted at "Our Community" at entergy.com through Feb. 1.
Among the programs supported by Entergy Charitable Foundation grants in the most recent awards round are:
A complete list of grants awarded can be found at entergy.com/ecfgrants.
The Entergy Charitable Foundation grants focus on education, poverty solutions and environmental programs that improve the quality of life in communities served by Entergy. Entergy employees also engaged in more than 100,000 hours of volunteer service last year valued at more than $3 million. Entergy Corporation and the Entergy Charitable Foundation annually award grants totaling nearly $16 million to almost 3,000 nonprofits in communities where Entergy operates.
About Entergy
Entergy Corporation is an integrated energy company engaged primarily in electric power production and retail distribution operations. Entergy owns and operates power plants with approximately 30,000 megawatts of electric generating capacity, including nearly 10,000 megawatts of nuclear power. Entergy delivers electricity to 2.8 million utility customers in Arkansas, Louisiana, Mississippi and Texas. Entergy has annual revenues of approximately $11.5 billion and more than 13,000 employees.
www.entergy.com
Twitter: @entergy
Facebook: www.facebook.com/entergy
---