Storm Center > Entergy Arkansas storm restoration update – 6/8/22, 5:30 p.m.
Entergy Arkansas storm restoration update – 6/8/22, 5:30 p.m.
06/08/2022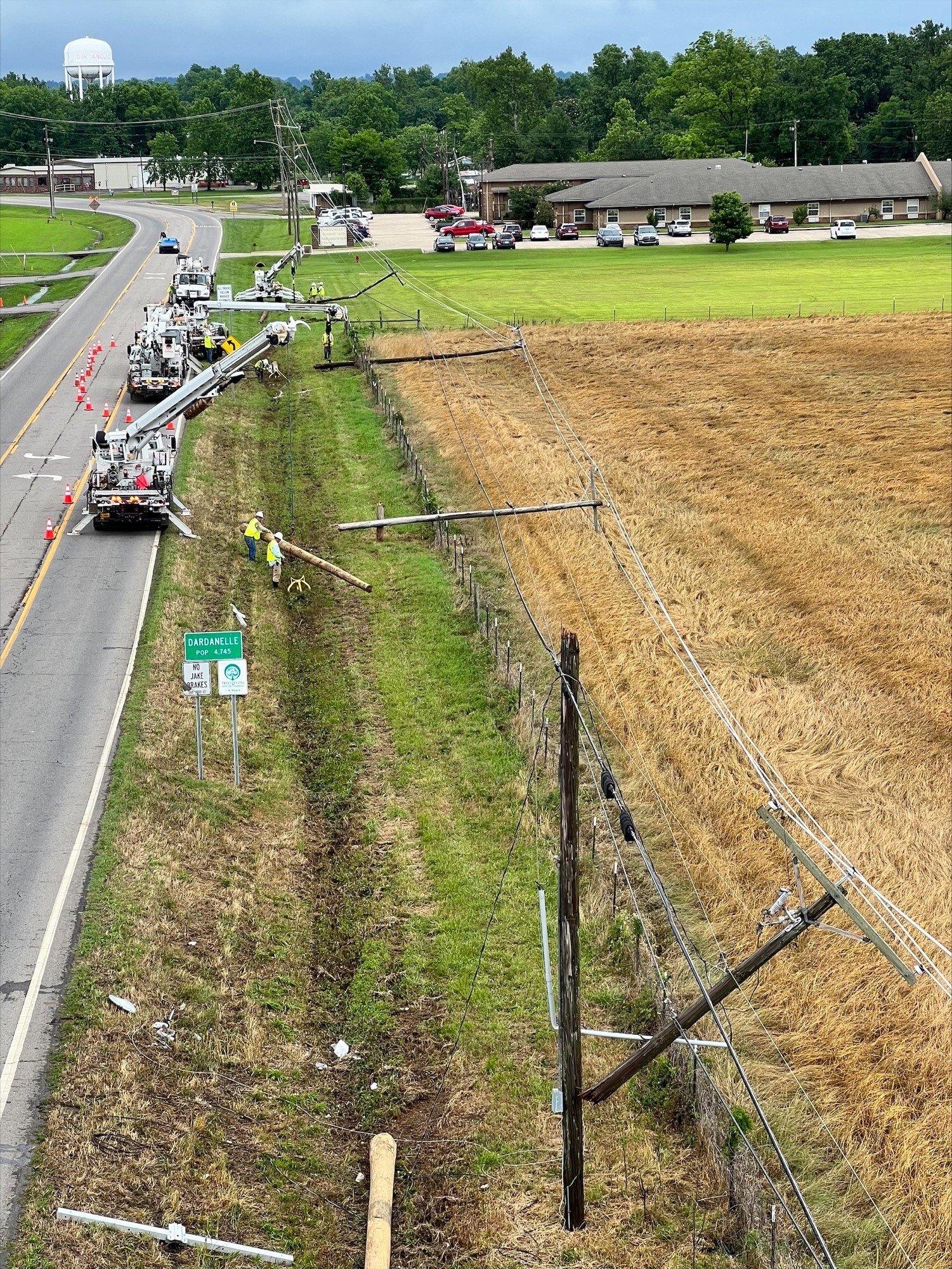 Several storms brought flash flooding, lightning, and gusts of wind up to 60 mph across the state Tuesday and Wednesday, causing more than 29,000 customer interruptions. Outages today reached a peak of 9,162 but were down to just more than 5,000 by early evening.
Most storm-related outages are expected to be complete by 10 p.m. tonight, with the exception of some customers in Russellville and parts of Southeast Arkansas where weather continues to impact the area.
Crews are working diligently to restore power as swiftly and safely as possible. ERTs can be found on the View Outage map, and customers can receive information through the Entergy app, text alerts and phone calls by completing a simple registration process, detailed below -
Download the app for your smartphone at entergy.com/app or visit Entergy Storm Center to stay informed on our restoration progress.
Text REG to 368374 or visit entergytext.com to register for text updates.
Follow us on Facebook and on Twitter @EntergyARK.
Follow updates in your local news media, like radio, television and newspapers.
As with any weather event, please be mindful of the following safety tips:
Live wires can be deadly. Stay away from downed power lines. Call 1-800-9OUTAGE or 1-800-968-8243 to report downed or dangling power lines, damaged or downed poles or other damaged equipment.
Do not trim trees or remove debris on or near downed power lines. Only power company crews or their contractors should remove trees or limbs touching power lines. Again, stay away from downed power lines.
Keep away from the immediate areas where crews are working. There is always the danger of moving equipment and the possibility of construction materials, limbs or overhead wires falling to the ground.
If you plan on using a generator for temporary power, have a licensed electrician and disconnect from the utility electric system before hooking up to your main electric panel. 
Do not run a generator in a confined space without adequate ventilation. Use them only outdoors, following all manufacturers' safety guidelines.
Unplug or turn off any electrical appliances that can easily be turned to the off position until power is restored.
---