News Release > Grand Gulf begins scheduled refuel, ensuring future reliability
For Immediate Release
Grand Gulf begins scheduled refuel, ensuring future reliability
02/28/2022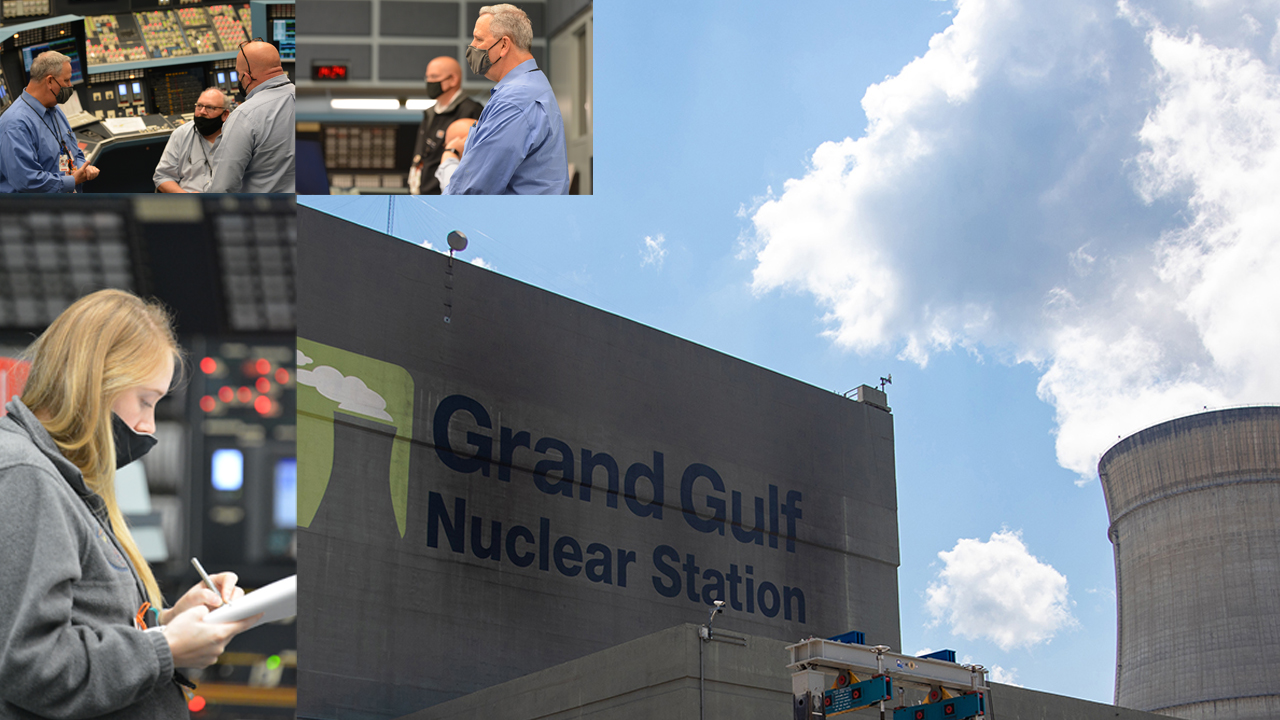 Refuel begins after year of record generation
PORT GIBSON, Mississippi – Grand Gulf team members joined with hundreds of employees and contracting partners this weekend to commence the station's 23rd scheduled refueling and maintenance outage following a record-setting year of power generation.
Control room operators removed the plant from the grid at 9 p.m. Saturday, Feb. 26, placing the plant in safe shutdown while refueling takes place. Refueling outages typically last several weeks, allowing for safe, secure and reliable operation when the refuel and other maintenance activities are finished.
Hundreds of contract workers are joining the Grand Gulf team, along with Entergy employees from other nuclear plants and headquarters. The influx of contract workers throughout the duration of the outage, many from outside the area, and their associated spending will provide an economic boost to the local communities.
Grand Gulf is one of the largest operators of its kind in the world, and the plant enters its 2022 refuel after setting all-time station records for both gross generation and net generation in megawatt-hours. In 2021, Grand Gulf's net generation was 11,731,254 megawatt-hours, with gross generation of 12,200,125 megawatt-hours. Gross generation is total generation, and net is the amount of total generation produced minus the electricity used to operate the power plant. Previously, Grand Gulf's all-time record was in 2015, with 11,715,621 and 12,160,896 megawatt-hours, respectively.
Nuclear power plants around the world schedule refuels every 18 to 24 months, typically in the spring or fall when power demands are lower.
What is a refuel?
Nuclear refuels are similar to fueling a vehicle, beginning when plant operators take the unit offline. Then work begins. Nuclear professionals remove a portion of the fuel from the reactor, shuffle current fuel rods and replace the removed fuel with new fuel.
While the unit is offline, the team completes maintenance work and other projects to improve reliability. Every detail of a refueling outage is meticulously planned and every Grand Gulf worker plays an important role.
To ensure the safety of Grand Gulf employees and supplemental workers, COVID-19 prevention protocols will be enforced. Those protocols include mask-wearing when appropriate, social distancing, frequent cleaning and disinfecting, as well as having employees stay home if they feel sick.
With its 800-plus employee workforce, Grand Gulf has a robust impact through community engagement, such as its home winterization drive, park cleanup and other volunteer efforts that help improve local lives while teambuilding for the plant.
Grand Gulf, owned by Entergy (90 percent) and Cooperative Energy (10 percent), is known worldwide for its generation capabilities. Since 1985, the plant has provided an economic boost to the community while providing low-cost power to Entergy's customers. Additionally, Grand Gulf and its employees maintain a strong presence in the communities they serve by spending more than $9 million per year with local companies, and through charitable contributions and donations that promote community development, education and the environment.
About Entergy
Entergy, a Fortune 500 company headquartered in New Orleans, powers life for 3 million customers across Arkansas, Louisiana, Mississippi and Texas. Entergy is creating a cleaner, more resilient energy future for everyone with our diverse power generation portfolio, including increasingly carbon-free energy sources. With roots in the Gulf South region for more than a century, Entergy is a recognized leader in corporate citizenship, delivering more than $100 million in economic benefits to local communities through philanthropy and advocacy efforts annually over the last several years. Our approximately 12,500 employees are dedicated to powering life today and for future generations. Learn more at entergy.com, follow @Entergy on social media and @EntergyNuclear on Twitter. #WePowerLife
---