News Center > Entergy, Community Partners Fighting Community Hunger this Holiday Season
For Immediate Release
Entergy, Community Partners Fighting Community Hunger this Holiday Season
11/25/2019
Stephanie Pyle
|
504-576-4132
|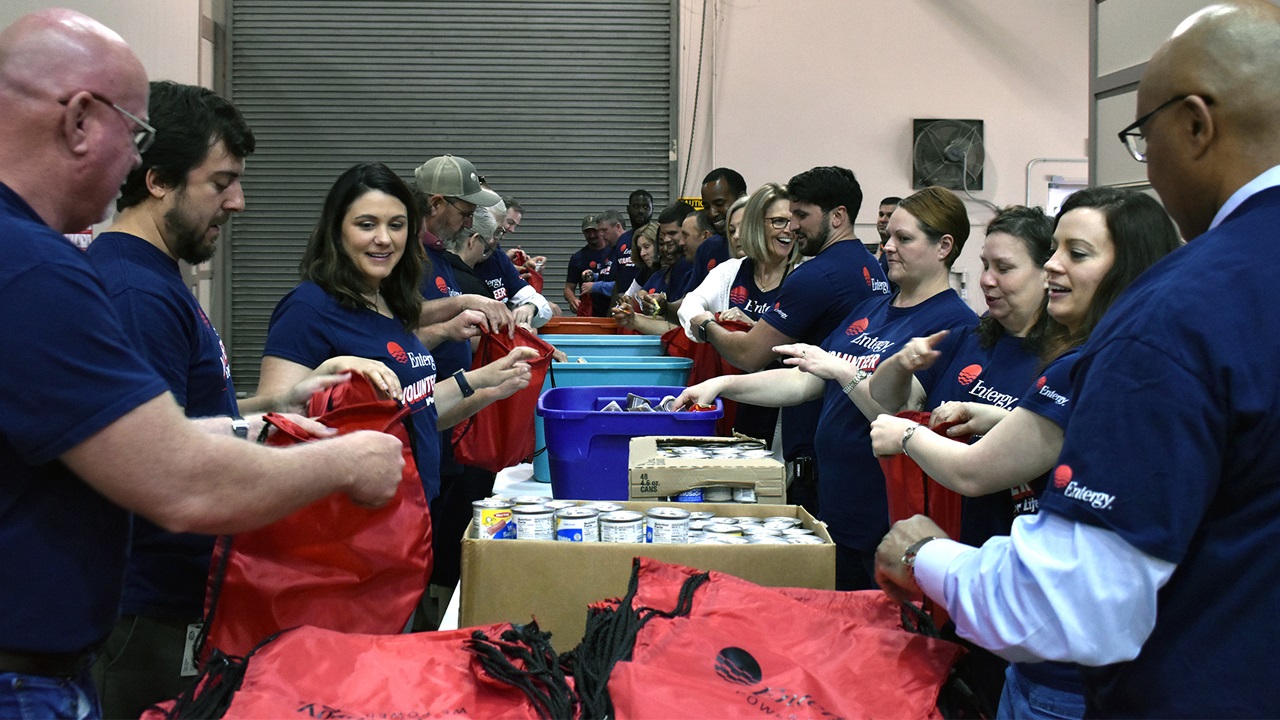 Company grants bring amount donated to fight hunger in Louisiana to more than $256,000
Thousands of Louisiana families will have access to nutritious food this holiday season thanks to Entergy's partnerships with local community service organizations. 

The company provided more than $56,000 to Louisiana food pantries and nonprofits for the holidays, bringing the total given to alleviate hunger in the state to approximately $256,000 in 2019.
In parts of south Louisiana, families will receive meals through church food basket deliveries or The Salvation Army's Holiday Food Box program. In northeast Louisiana, hundreds of kids will go home from school with a food-filled backpack thanks to the Food Bank of Northeast Louisiana's Backpack for Kids program. And in southwest Louisiana, residents in need will receive a hot meal through Abraham's Tent Association.  
These are just a few examples of how Entergy is partnering with local food pantries and non-profits to help fight hunger, a real threat in one in six Louisiana homes, according to a new USDA study. Nearly 300,000 Louisiana households are still experiencing food insecurity, the third highest rate nationwide.
"We're partnering with food pantries and non-profits to reach Louisianans in need at a time when household resources can be tight," said Phillip May, Entergy Louisiana president and CEO. "People are at the core of our mission and business, and so it's our hope that, together, we can help our communities remain safe and healthy this holiday season and beyond. It's the right thing to do."
"I encourage everyone to join us in supporting philanthropic organizations like food pantries that provide comfort to families facing hunger," said David Ellis, Entergy New Orleans president and CEO. "It's the season of giving, and there's nothing more rewarding than bringing joy to others when they need it most."
Find out more about Louisiana food pantries by visiting https://www.foodpantries.org/st/louisiana or https://www.feedinglouisiana.org/get-help.
Entergy Louisiana, LLC provides electric service to more than 1 million customers and natural gas service to more than 93,000 customers in the greater Baton Rouge area. It has operations in southern, central and northeastern Louisiana.
Entergy New Orleans, LLC is an electric and gas utility that serves Louisiana's Orleans Parish. The company provides electricity to more than 200,000 customers and natural gas to more than 106,000 customers. Both companies are subsidiaries of Entergy Corporation.
Entergy Corporation is an integrated energy company engaged primarily in electric power production and retail distribution operations. Entergy owns and operates power plants with approximately 30,000 megawatts of electric generating capacity, including nearly 9,000 megawatts of nuclear power. Entergy delivers electricity to 2.9 million utility customers in Arkansas, Louisiana, Mississippi and Texas. Entergy has annual revenues of approximately $11 billion and more than 13,000 employees.
-30-
---