News Center > Entergy Arkansas Demolishing Moses Power Plant Near Forrest City
For Immediate Release
Entergy Arkansas Demolishing Moses Power Plant Near Forrest City
06/22/2020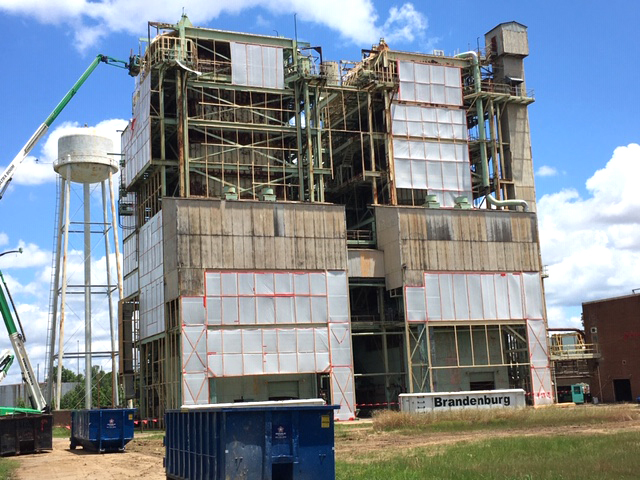 FORREST CITY, Ark. – Entergy is in a constant state of modernizing its system, including the power plants that generate electricity. One noteworthy next step is that Entergy Arkansas is demolishing the retired Hamilton Moses power plant near Forrest City.
The process began in May and will last through the end of the year.
The two-unit plant went into service in 1951. It could burn fuel oil or natural gas, but burned natural gas for most of its years of generating electricity. The plant was retired from service in 2013.
The facility was named for Hamilton "Ham" Moses, who was attorney for Harvey Couch, founder of Arkansas Power & Light (later Entergy Arkansas). Moses succeeded Couch as president of AP&L when Couch died in 1941. Read his colorful history in the Encyclopedia of Arkansas.
The plant is visible from Highway 70 about five miles west of Forrest City. The task currently underway in Phase 1 is the construction of an airtight envelope around the plant prior to meticulously and safely removing certain materials, primarily asbestos, from the structures within the containment areas. This phase will run through the summer. Then the tent will come down for Phase 2 and heavy equipment will dismantle what's left of the structures, shearing all metal components into pieces small enough to transport by truck for recycling.
Phase 1 of the project involves up to 70 specially trained and equipped employees of Brandenburg, to which Entergy Arkansas has contracted the work. The workforce will be reduced when the scrapping operation begins. At that point, 4-5 truckloads of scrap metal per day will be transported from the site for recycling.
When the project is completed, the property will be considered a "brownfield" site, suitable for other uses. The only utility item that will remain will be a substation, which is actually a new facility completed in June of 2019.
Entergy Arkansas, LLC, provides electricity to approximately 700,000 customers in 63 counties. Entergy Arkansas is a subsidiary of Entergy Corporation (NYSE: ETR), an integrated energy company engaged primarily in electric power production and retail distribution operations. Entergy owns and operates power plants with approximately 30,000 megawatts of electric generating capacity, including nearly 8,000 megawatts of nuclear power. Entergy delivers electricity to 2.9 million utility customers in Arkansas, Louisiana, Mississippi and Texas. Entergy has annual revenues of $11 billion and approximately 13,600 employees.
---