News Center > 6 p.m. Storm Update - Entergy Louisiana Restoration Efforts
For Immediate Release
6 p.m. Storm Update - Entergy Louisiana Restoration Efforts
05/11/2019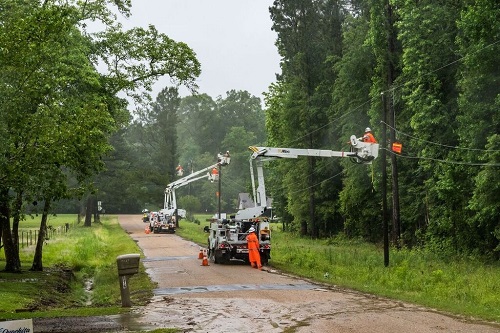 North LA Region
Entergy Louisiana crews expect to restore power by 10 p.m. Sunday, May 12 to the vast majority of customers affected by the severe thunderstorms that struck north Louisiana. Entergy Louisiana is coordinating with state and local emergency preparedness officials to continue its efforts until all customers have been restored. Additional crews have been brought in to assist with restoration work in all areas of the hard-hit parishes of Jackson, Bienville, Winn and Natchitoches.
Power has been restored to all but about 1,200 customers as of 6 p.m. Saturday, May 11.
Entergy Louisiana will open a customer information center at the Jonesboro Town Hall, 128 Allen Ave., at 9 a.m. Sunday, May 12 to offer customers the opportunity to discuss their outage directly with Entergy representatives. The center will be open from 9 a.m. to 5 p.m. Sunday, May 12.
Entergy's number one priority is the safety of our workers and the public and would like to remind everyone that a downed power line can be deadly.  If you see a downed power line KEEP YOUR DISTANCE and do not attempt to move the power line directly nor indirectly.  Report downed power lines and outages by calling 1-800-ENTERGY (1-800-368-3749) or 1-800-9OUTAGE (1-800-968-8243).
Customers can make sure their home or business is ready for power to be restored by checking outside for damage to the electrical equipment attached to their home. If the meter or any of the piping and wires on the outside wall is missing or looks damaged, customers should call an electrician to make repairs. Entergy Storm Center has information to help you know how to spot damages.
 Ouachita Parish
Monroe, West Monroe  
All customers who can accept power have been restored. Customers that remain without power, check for damage to the electrical equipment attached to your home or business. If your electric equipment appears undamaged, call 1-800-9OUTAGE.
 Bienville, Jackson, Winn and Natchitoches Parishes
As of 6 p.m., May 11 approximately 1,200 customers across Bienville, Jackson, Winn and Natchitoches parishes remain without power.  Entergy crews and additional workers continue to restore power. Damage assessment is 100% complete. The storm system downed more than nine miles of power lines and damaged more than 75 poles.  Most customers who can receive power will be restored by 10 p.m. Sunday, May 12.
---